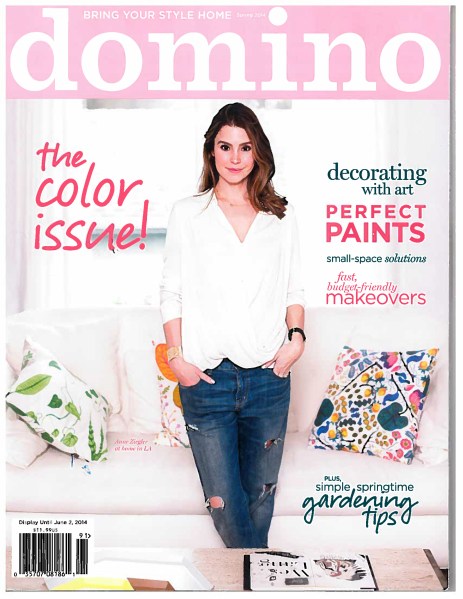 When news broke last summer that Domino was coming back, the fan base of the much-loved shelter magazine reacted with excitement usually reserved for finding an Eames chair on trash day. 
The Condé Nast title hit big in 2005 by showing real people's homes that were better decorated than yours. The spreads were worth aspiring to and maybe somewhat attainable with a bit of cash and an inclination to D.I.Y. But then came 2009. Domino, like many magazines, did not survive—at least, not really. In the intervening years, there was a ghost site and a ghost magazine sponsored by Target, with repackaged spreads. But the editors were gone and the sensibility stale. 
Last year, Domino Editor in Chief Michelle Adams and publisher Beth Fuchs Brenner left the respective shelter titles where they had, well, taken shelter and relaunched, as Domino Media, free from Condé's purview. The new magazine would be quarterly, and the website would feature a robust e-commerce platform. 
In something of a soft launch, the first holiday-themed issue, which came out in the fall, still had just one sponsor: Target. 
The second issue, which hits newsstands this week, looks a bit more like the old Domino that fans loved so muchand, with multiple advertisers, more like a real magazine.  
"Print is an art, and the Web is a science," Ms. Brenner said. "Its nice to be rooted in that, because then people really understand what the brand is about."
The home decor niche, like everything else, has changed a lot since the original Domino shuttered. There are Instagram, Pinterest, ever more design blogs and flash shopping sites like One Kings Lane where you can buy curated home design. A modern-meets-industrial orange coffee table or preppy-chic geometric poof is now just a click away. 
"One Kings Lane inspired me to buy home items the way I used to buy fashion items. I credit them with bringing the world to home decor online. People are doing more impulse purchases for the home than they used to," Ms. Brenner explained. 
We had suspected this to be the case but weren't sure if it was due to the difference in priorities between one's early and late twenties. Maybe everybody was actually adding splashes of color with the strategic placement of throw pillows and scouring Etsy for vintage maps that could be repurposed as wall hangings all along.
"Domino was built on this whole concept that if you are a fashion person you can bring your fashion style home," Ms. Brenner explained. "But I've always considered myself a fashion person. I can put an outfit together but not put a room together. It's just not the same gene." 
We asked for advice and explained that we recently moved in with someone and haven't been able to figure out how to make our new apartment reflect both our sensibility and the sensibility of the person we live with (we read somewhere that that was the point of home design).   
"You don't need to decorate it all in one go. A home should evolve over time. Try to avoid making purchases simply because you want to rush the process; wait until you find a piece that you really love," Ms. Adams wrote in an email. 
We were reluctant to pass this bit of wisdom on to the person we live with, considering that we have spent the past three months sitting on the kind of beige leather sofa that would never appear in the pages of anything. 
Later, flipping through the new issue of Domino, we saw some colorful pillows that might help, along with sheepskin throws (considering sheepskin's reccent popularty, it's amazing there are any sheep left that have skin). A certain clarity of purpose of that made the old mag such a hit was missing, but we still got decorating ideas—most of which involved buying stuff. And maybe that's the real point.
"We wanted to inspire people not just to window shop but to make a purchase," Ms. Brenner said