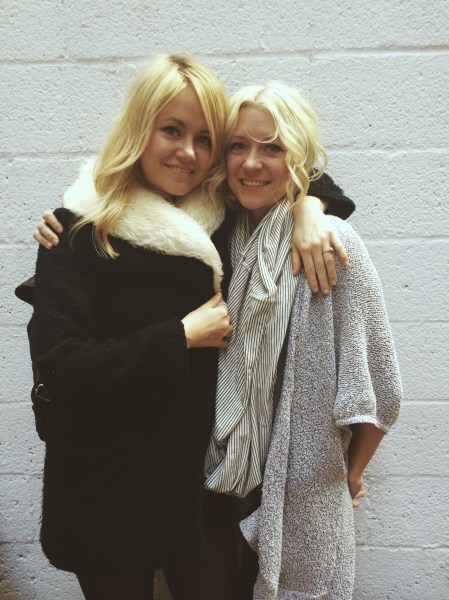 When we walked into the back corner of a Chelsea café last week, a beautiful blonde woman smiled at us. Startled, we realized it was none other than Jessica Needham, one half of the sister duo responsible for makeup on the hit IFC television show, Portlandia. (What New Yorker smiles at a stranger inside a coffee shop anyways?) Her costume designer Emmy Award winning sister, Amanda, quickly joined us with cups of tea. The vibrant pair discussed life on set with Fred Armisen and Carrie Brownstein and the art of creating a Portland seapunk.
New York Observer: What are you guys doing in New York? It's a little far from Oregon…
Jessica Needham: The last week of February, I was here with the Portlandia crew doing media appearances and press, which was really fun.
Amanda Needham: The fourth season that's out right now. I'm subletting an apartment here and having TV is a luxury!
NYO: What do you think are some of the biggest differences between New York and Portland?
A: I think that honestly there are so many similarities between Portland and Williamsburg.
J: The beards, the mustaches, the dark framed glasses, the flannel!
NYO: Do you see any influences from the show here in New York?
J: I have to say that yesterday I went to the store, Cloak & Dagger, and they seriously had an entire section of Toni and Candace, the feminist librarians on the show.  It was crazy-I said, "This is the perfect place for Amanda to shop."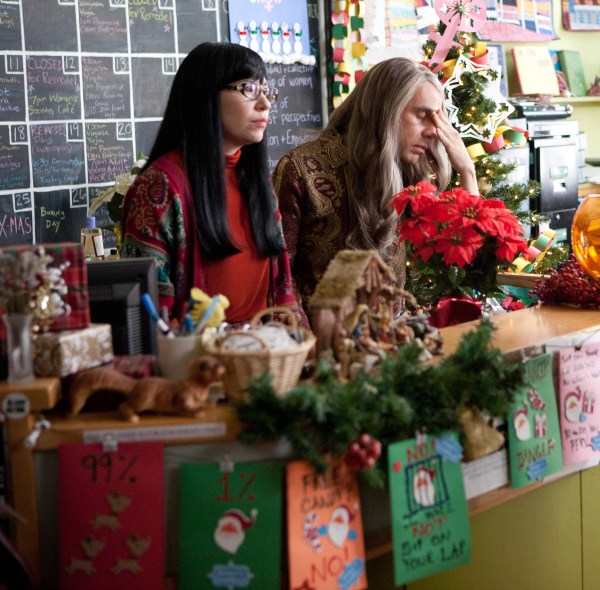 NYO: Where do you find inspiration for the characters's costumes?
A: There are so many people in Portland who are these characters. There are actual Tonis and Candances, Peters and Nances, Daves and Kaths. You see them everywhere. Every wardrobe depends on the characters. For Toni and Candance for example, we thrift. Thrifting is a huge part of finding those pieces.
J: She'll come to set with weird stuff—like a two-piece batik. That's a designing fabric; you use wax to dye it.
NYO: With the "Cacao" skit, Carrie has to wear sideburns and mustache and Fred's got to be fresh faced. How does that happen?
J: The sideburns are just plastered on and the mustache too.
A: Fred has to shave like three times when he's Nina! His hair grows back that fast!
J: And that's fun to do makeup on Fred when he's a woman, guys aren't used to it so he's constantly blinking!
NYO: How much advance notice do you have before shooting?
A: We get the script for the whole season and we'll go through it with all the teams, hair, makeup, wardrobe and wigs. A lot of the looks have been established since the pilot. When we're introducing new characters we'll put together tear sheets, create a visual understanding of how we see the characters and we'll present them to Fred and Carrie and Jonathan Krisel [the director]. It's an amazing collaborative process.
NYO: Do you find it difficult to convey the essence of a city through makeup and clothing?
A: I can walk into any store and say, "That's Nance, that's Dave, that's Nina—" they're so defined. It's also been really cool to see create characters. Like this season there are seapunks—I had no idea what they was. They're apparently mermaid versions of punks.I do a lot of research and I find specific pieces to those characters. For seapunk it's pastel-like colors, almost funky '90s fashion. It's a lot of fun!
NYO: Was it intimidating at all to have Chloë Sevigny, who's such a style maven, on set?
A: When people come to our set, they know what to expect. Our sets are really small, and so I think that once people are there, people of let go of their egos and just come to play along. Chloë was amazing because she had really valuable opinions about her character's development. She brought a lot to the table.
NYO: How did you both start out in the industry?
J: Amanda actually did makeup first! I followed her lead. I was stuck in offices doing boring work and I wanted a change. She hired me on my first movie and I literally had no idea what I was doing. I just followed her lead and picked it up. Then I went to beauty school.
A: I started out in makeup. While I was on set, I'd do makeup and then I'd get really bored. I need a little more chaos to keep my attention. I started noticing the costume designers, the stylists, they were always on the go, they were always a little bit more involved with creating the characters. I gave it a try and, well, it's fun but it's a lot of work. My first job interning was with a movie in LA and I'd just moved there and I didn't know the city. I don't want to date myself but there were no cell phones. I was working for free and I'd work 16 hours a day for like 30 days. Every single day changes. I think now, it's paid off. We're not saving people's lives, we're here to have fun and it's important to remember that.
NYO: You grew up in Portland—how was it like then?
A: It was very industrial. Now there's a lot of film and commercials, even Nike and Adidas are putting money locally.
J: I think a lot of people have migrated to Portland. It's more diverse. I think it's been lovely in that Portland was not so diverse before. Now it's better, it's unique.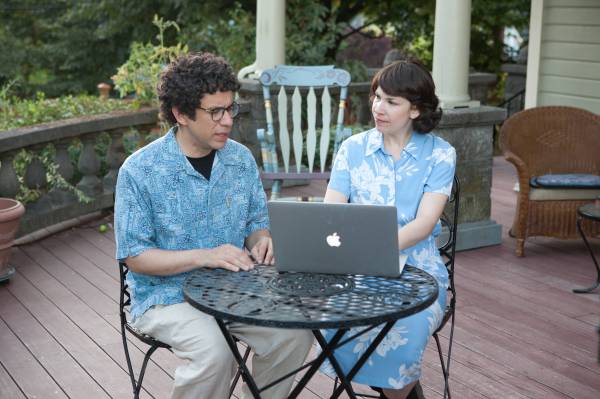 NYO: What are some of your favorite places in Portland?
A: My favorite place is a Swedish spa called Löyly. It's where I go when I've been overworked. Steam and sauna and they serve a little bit of food, you can just go and completely check out.
J: There are days when it's coed and others when it's just women and you can bare down and steam. As far as food, I really love Navarre. They have tapas and they're all unique and fresh and cooked right there. And the wine list is amazing and the menu always changes.
NYO: A lot of Portlandia is shot on location. Have you gone to any of the places that Fred and Carrie's characters visit?
J&A: Oh yeah!
A: Portland is a very neighborhood-y. It's small, sometimes too small.
J: Yet it's very spread out in some parts. But Portland proper is very small.
A: Once you start going places you start running into people you know and that's part of the problem with Portland I think. The best part about living in New York is that you're sort of anonymous. Nobody cares, you're not going to run into people you know.
J: The film industry is really small—there are three TV series that are being filmed there right now, ours, Grimm and The Librarian. We all know everybody. When we're not shooting Portlandia, we're doing commercials and when we're doing commercials, we just see the same people we worked with on the show, it's that small.
NYO: Do you both enjoy working with one another or do you find it a nuisance sometimes?
J&A: YES!
J: I can't work for her but I can work with her.
A: If we're doing a fitting or we're talking about wardrobe—I can't say, "Carrie needs this or that." We don't undermine each other.
NYO: How big of a space do you have to work with?
A: We work out of a tiny trailer, but I have a giant, 20 foot, old bread truck that we drive around and stock it with clothes.
J: It's been completely renovated to be a wardrobe truck, closet on wheels!
NYO: Are you taking anything back from New York to the set?
A: Thrifting in Brooklyn and New York in general is so expensive. You can still find cheap things in Portland.
J: I legitimately bought a Chanel jacket in Portland for $6.
This interview has been condensed and edited.