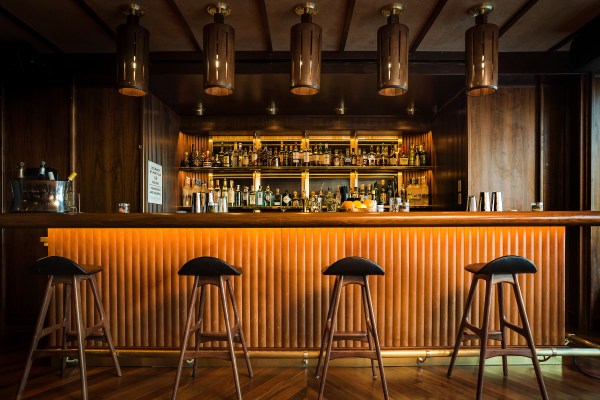 "This is like a luxury yacht up in the clouds," remarked Scott Gerber, surveying his eponymous nightlife firm's latest creation—a vaguely nautical drinking establishment of dark walls and golden light perched atop the Viceroy Hotel, the similarly eponymous Gerber Group's The Roof.
Though The Roof, which is located at 124 West 57th Street, looks out onto an avenue that has become synonymous with extreme wealth—from the terrace, one can get a very good view of billionaires' roost One57 almost directly across the street—Mr. Gerber insisted that it would not just be a watering hole for the elite when we spoke with him at The Roof's informal opening Tuesday night.
"We're inclusive, not exclusive," he said. "There's no bottle service or minimum bar tab to make a reservation—if you want to sit at a table, you can."
Which is fortunate, given that the view from the Roof is not one that New Yorkers of relatively modest means—i.e. those without millions of dollars—get to take in on a regular basis. On the terrace outside, tipplers sat beneath a bower of stars, Italian glass bricks with a sheen of black licorice to their backs and the vast lawns of Central Park unfolding to the North. Within, the Roman and Williams-designed space boasts wood-lined walls decorated with oversized photos of a Hamptons beach at sunset, walnut-and-leather sofas, perforated brass light fixtures and a ceiling of cork bordered with gold studs.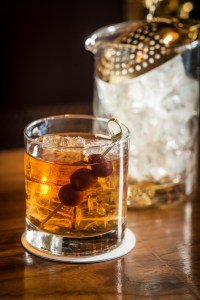 Vincent Mauriello, the director of the bar program for the Gerber Group, has extended this democratic vibe to the drink list, which is balanced between edgier house cocktails and well-built classics like sidecars and old-fashioneds. The menu also includes small cheese and charcuterie plates, avocado-smeared crabmeat on toast and bigger dishes like Cobb salads or the Kingside hamburger from the restaurant downstairs.
"We're Midtown," Mr. Mauriello explained in regards to the many classics, opening a menu bound in stamped leather to point out a more unusual concoction known as the Trouble Maker: a sweet tyrant of a drink made with strawberries, muddled cucumber and bonal, a French aperitif with floral hints.
Less democratic: the $16 price—not unheard of in such aeries, but a little dizzying nonetheless.
We settled on a glass of small-batch whiskey, filtered through limestone that the general manager claimed came from the same quarry that supplied the Empire State Building. "It's made in upstate New York," he said. Talk about drinking in the city.
Out on the balcony, the after-work crowd stripped off their coats and ties in the unseasonably warm weather. Helped by the bluesy playlist that cross-faded into easy listening-type electro at dusk, guests marveled at the unencumbered view stretching almost to the park and plunging all the way down into billionaire's belt below.
Mr. Gerber explained why their skyline had no skyscrapers: air rights. Which is basically the local currency of 57th Street.
Whether The Roof will draw the same mix as the Viceroy pulls in—Europeans, Europeans, Europeans, and a smattering of twenty-something locals on staycations—remains to be seen. But by 7 p.m. on its first night, the 120-person bar was at capacity. They weren't even letting people into the elevator. No bottle service required, but you might not be able to get a table, after all.