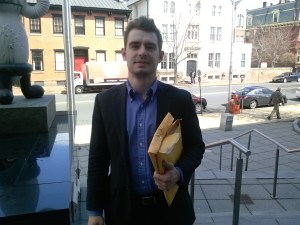 TRENTON – Dr. Alieta Eck this afternoon filed 344 petition signatures in the 12th Congressional Disttrict.
As at least three candidates – state Sen. Linda Greenstein (D-14), Assemblywoman Bonnie Watson Coleman (D-15) and Assemblyman Upendra Chivukula (D-17) – battle in in the Democratic Primary – the Republican appears to have an unimpeded path to victory in the primary.
Her campaign manager, Chris Pordon, dropped off the signatures moments ago.