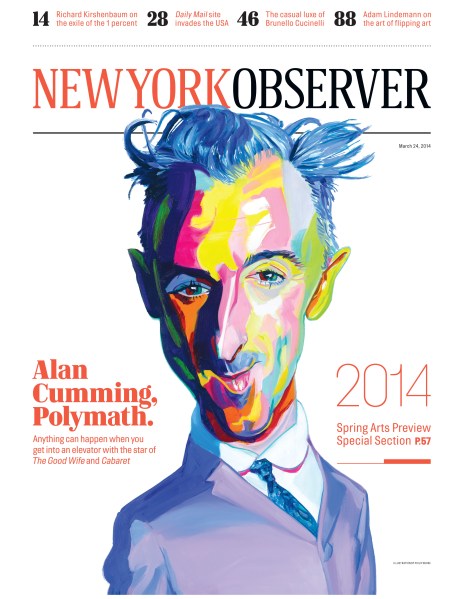 The New York Observer is brighter, cleaner and more modern. It has more photographs, illustrations and pages and a new style section that will be in the paper every week. It has changed a lot. What hasn't changed is our commitment to the best writing and reporting on everything that matters in the most fascinating city in the world.
For more than 25 years, the Observer has chronicled this city of giants—the egos and blood feuds, the killers and kings. It is a dream mission for any editor and a team of journalists hungry to tell stories.
Peter Kaplan, who edited this paper from 1994 to 2009, called it the Kingdom of New York. He described the Observer's beat with a grandiosity befitting a paper that has always punched above its weight: "socialites who climbed mountains, debutantes who joined the Colony Club, authors at each other's throats, bistros clawing for clienteles, TV executives struggling for prime time, senators sucking around presidents, first ladies trying to become senators. And physical torment: classy ladies pioneering nether grooming, botulism in the forehead, high colonics, special formula enemas, face-lifts, private school kids snorting Ritalin. Sex, and plenty of it, in the city."
All of those subjects and more remain our paper's lifeblood, even as our size, shape, binding and newsprint have changed. We have designed the paper—with David Heasty and Stefanie Weigler from Triboro leading the way—to look and feel as a 21st-century weekly should: assertive, attitudinal and visually arresting. There are new feature wells that will give long-form storytelling and investigative reporting an even bigger stage. And better paper and photography will augment our award-wining arts coverage with visuals that do justice to the writing.
The Observer has changed in other ways, as well. As interest in the city we cover reaches across the globe, our readership is expanding online, and we relaunched Observer.com as well. Over the past year, Observer Media has rocketed up the charts that measure such things. We have more than doubled our followers on Twitter and Facebook, and we're expanding efforts in all directions, including things that end in suffixes such as "gram" and "plus."
A year ago, the Observer threw a party to celebrate our 25th anniversary. Many celebrities gathered to toast the newspaper's honorable history as Observer writers and editors past and present joined to celebrate its legacy and influence. It was a grand way to look back at a quarter century.
Today's mission, starting with the newspaper, is about looking forward. From our cover story on quintessentially ballsy NYC celeb Alan Cumming to the click-bait catnip the Brits have unleashed on our shores in the form of the Daily Mail to Adam Lindemann's mercenary look at art through a buy/sell/hold lens, our goal is to capture not just what it means to be living in the world's greatest city, with its characters, desires and delicious, unpredictable rhythms. The New York Observer has been and will continue to be a home for great writing, because great writing is a luxury product all its own.