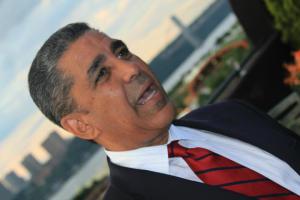 State Senator Adriano Espaillat has tapped the National Action Network's national field director to join his campaign as a senior adviser, adding another high-profile weapon to his repeat bid to unseat Congressman Charlie Rangel. 
LaMon Bland, who oversaw the expansion of the Rev. Al Sharpton-led organization, was brought on to boost Mr. Espaillat's reach into Mr. Rangel's base in Manhattan, sources say.
"Adriano Espaillat is building an inclusive coalition to unite our district, and I am excited to join his campaign," Mr. Bland said in a statement to Politicker. "From fighting for low-income tenants and affordable housing, to speaking out against stop and frisk and civil rights abuses, Adriano has a proven record that resonates with Washington Heights and Harlem voters alike."
The NAN hire adds further intrigue to what is already shaping up to be a highly competitive race. Also in the running is Rev. Mike Walrond, a top NAN staffer and a close associate of Mr. Sharpton. A power broker in the heavily African-American portions of the northern Manhattan and Bronx district, Mr. Sharpton's endorsement is highly sought after. Mr. Sharpton has yet to indicate who he will ultimately favor.
Mr. Espaillat kicked off his second bid against Mr. Rangel, the longtime Harlem lawmaker, last week, after nearly unseating Mr. Rangel in 2012. This time, Mr. Espaillat's campaign appears to include more influential staffers: as Politicker first reported, Mr. Espaillat has also hired a top 1199 SEIU operative to steer his campaign.
He also secured the endorsement of Council Speaker Melissa Mark-Viverito, an East Harlem lawmaker who backed Mr. Rangel two years ago. With much of the Latino political establishment firmly behind him, Mr. Espaillat is looking to ride shifting demographics, along with a more sophisticated and better-funded voter outreach effort, to victory this year. 
Mr. Bland is battle-tested in the district. Before joining NAN, he was a top consultant at Bill Lynch Associates, the Harlem-based consulting firm that was run by the late campaign guru Bill Lynch, who was a longtime adviser Mr. Rangel.
"LaMon Bland someone who would not have been near the Espaillat campaign two years ago," said a source close to the Espaillat camp. "His hire shows how serious the campaign really is."