There's a moment in Open City, Teju Cole's beautifully rendered 2011 novel, in which the narrator, a young medical student named Julius, ponders the winter season. "Ever since I left Nigeria, I'd had a bad attitude about cold weather, and I wanted to put an end to that," he says. "One thing that helped," he adds, "was that I made a habit of overdressing."
Those lines came to mind on an afternoon in February, when I met Mr. Cole, the 38-year-old Nigerian-American novelist, at a café in Sunset Park, not far from his home. Snow, which had been coming down in thick, watery globs, was turning to rain, and Mr. Cole seemed flustered by the messiness of it all. He wore a black knit cap with earflaps, a black scarf and a black coat, which he kept on when he sat down, his thick-rimmed glasses fogging over. It wasn't that cold; Mr. Cole, I couldn't help but notice, was overdressed.
It's tempting to draw parallels between Mr. Cole's life and his fiction, which can seem like thinly veiled autobiography. His first book, a novella titled Every Day Is for the Thief, originally published in Nigeria in 2007 and now being released in the United States, is no exception. Told from the perspective of a thoughtful young medical student who returns to Lagos, Nigeria, after a long period abroad, it reads like an extended and very personal piece of travel reporting. But that, he said, is exactly the point.
"I'm very interested in fictional forms that challenge our idea of what fiction is," Mr. Cole told me. "I think a lot of people will read Every Day Is for the Thief and feel that it's nonfiction, but that confusion is intentional."
When Open City, which won the PEN/Hemingway Award in 2012, was published, it announced the arrival of a wholly fresh and exciting new voice in American literature. Now, the young author is in the rare position of having his first book judged after his reputation has been established.
Mr. Cole is not your typical immigrant writer. Unlike his contemporaries, like Russian-born Gary Shteyngart and London-born, Bengali-American Jhumpa Lahiri, who put questions of identity front and center, Mr. Cole is harder to pin down; he revels in ambiguity, taking inspiration from authors who have toyed with what a novel can be, like W. G. Sebald, J. M. Coetzee and V. S. Naipaul.
Analogies, though, will only get you so far. "What I like is that he's not being an immigrant writer in any conventional, categorizable sense," Philip Gourevitch, a New Yorker staff writer and former editor of the Paris Review, told me. "It's not like he's placeless, but he's creating a new space for himself, a space that isn't already inhabited by a lot of other writers—other voices." If Mr. Cole can, indeed, be figured out, he might simply be described as a New York writer. There is a touch of Alfred Kazin and Joseph Mitchell—two of the most observant walkers in the city's history—in his books' open-eyed flaneurs, who mostly observe life from the periphery. They drift, alienated and not, anonymous in cities that encourage anonymity.
"It's a way of seeing things," said Mr. Gourevitch. "It's a way of regarding oneself in relation to space and the city and cultures, as an observer, as a walker."
Mr. Cole, himself a walker and a photographer—a camera hung from his neck the day we met, and Every Day features photos he has taken of Lagos—is soft-spoken and reflective. He seems, like his characters, to take his time with his thoughts, but he is witty and present, as well.
"He's got the standoffish observer attitude," said the jazz pianist and composer Vijay Iyer, a friend of Mr. Cole's. "But he's also just kind of a natural communicator. He's not afraid to put himself in dialogue with anyone around him, which is kind of rare for a writer."
MR. COLE WAS BORN in Kalamazoo, Mich., to Nigerian parents in 1975 and raised in Lagos. He returned to the United States at age 17—his American passport "the ultimate get-out-of-jail card," as he wrote in The New Yorker three years ago—and earned a bachelor's degree in art history at Kalamazoo College. After a couple of years doing medical research at the University of Michigan, he moved to England to study at the University of London's School of Oriental and African Studies. In 2000, Mr. Cole moved to New York, enrolling at Columbia University to study art history. He began writing books in 2006.
Although he had written blog posts, essays and short stories before he sat down to work on Every Day, Mr. Cole says the book came about when he felt he had, at last, found his voice.
"At some point, I just got to the thing that I considered to be what I do," Mr. Cole said, "which is, I try to convey complex ideas in simple language. I feel like that's my goal: to testify to the complexity of experience but not to do it in language that is itself difficult to get into."
Every Day is easier to read than Open City, an intensely psychological work. The novella, which takes its name from a Yoruba proverb ("Every day is for the thief, but one day is for the owner"), is written in plainer, more declarative sentences. The first line, for instance, sets the tone: "I wake up late the morning I'm meant to go to the consulate."
Not much "happens" in either book. They are both, essentially, about societies in the aftermath of tragedy—Open City in the wake of 9/11 and Every Day, military rule. The novella is a series of vignettes depicting the narrator's urban peregrinations through Lagos, punctuated by brief, expository interludes, journalistic in feel, that dwell on the history of the city he's walking through.
It isn't as smoothed out as Open City, which, for the most part, follows Julius as he wanders around New York thinking. But in many ways, Every Day reads like an epilogue to Mr. Cole's second book.
"I think of Every Day as a sort of Portrait of the Artist as a Young Man," David Ebershoff, Mr. Cole's editor at Random House, wrote in an email. "The narrator has an artist's mind, and he's in the process of learning how he sees the world and how he can express what he sees. In Open City, the voice of the narrator, Julius, is much more sophisticated, artful and certain."
Mr. Cole says it would be a mistake to assume that the novella was composed by a less experienced writer. He began writing the novella in January 2006 and finished it in about a year. He started Open City in November of the same year; it took him three years to write.
"It's almost the same person who is writing them," Mr. Cole said, "except the complexity of the material, and the ambition of what I was trying to do in it, was a bit different. The aftermath in New York was something I wanted to approach in a different way, in a more even deeply psychological way."
Since the release of Open City, Mr. Cole has been keeping busy. He writes occasional essays and reviews for such publications as The New Yorker, The New York Times, Granta and The New Inquiry. He takes photographs. He is a distinguished writer in residence at Bard, where he teaches. And he is an active presence on Twitter, where his thoughtful, experimental and often oracular tweets have earned him a wide audience.
"Any idea I have today is probably going to end up being a tweet sometime," he joked.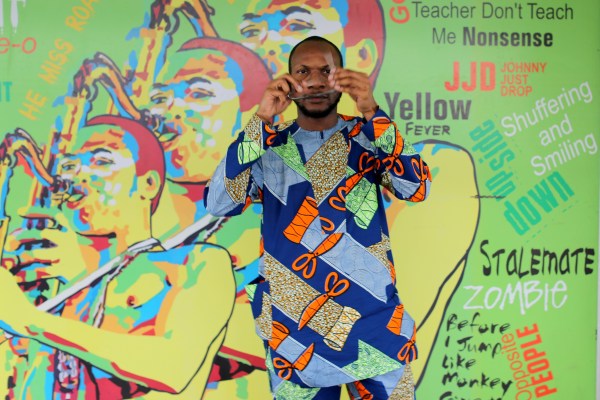 Mr. Cole lived in Morningside Heights for a time but moved to Brooklyn, where he now lives with his wife, not long ago. He feels at home there. "I think it's one of the few places in the world where I really belong," he said. "There are people of all income levels and all sorts of different backgrounds. I don't feel like I stick out."
He returns to Lagos, where his parents reside, once or twice per year. He has no intention of moving back, though the unnamed narrator of Every Day entertains the idea throughout the book.
"I can't live there," he said. "It's just not for me. I enjoy the visits, I see family, I love going out clubbing, I meet up with my friends, hang out with people I like, meet interesting new people all the time. But it also makes me very, very uneasy. It is a place where I feel a heightened sense of danger."
That doesn't mean Lagos is not still with him. Having written two works of fiction that play with the notion of what fiction is, Mr. Cole is ready to be a bit less ambiguous in his next endeavor.
He is working on what he describes as a "nonfiction narrative" of his home city, to be titled Radio Lagos: Life, Death and the Afterlife in Africa's Biggest City. It will have much in common with the reportorial feel of Every Day—with the exception that it will be true. "It's more densely researched," he said. "And it's straight-up nonfiction."
This brought up a question I had taken for granted while reading Mr. Cole's novella. I asked him if, autobiographical details aside, the historical facts in Every Day were accurate, faithful to the city he evokes.
More or less, he said. "But I actually sort of screw around with geography and places and stuff like that, and in fact, part of that happened in ways that I did not know," he told me. "Like that final chapter, with the street of coffin makers."
It isn't giving too much away to say that the narrator has returned to New York and, contemplating his visit to Nigeria as he stares out at a snowstorm from the confines of his apartment very early in the morning, dreamily remembers an alley in Lagos where carpenters build caskets, a "dockyard of Charon's."
"I really thought when I was writing it that a lot of that stuff was true," Mr. Cole said. "But I've been back a couple of times to look, and I can't find it."