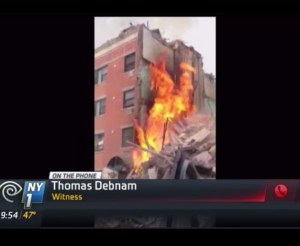 An explosion caused the collapse of two East Harlem buildings on 116th Street and Park Avenue this morning, killing eight people and injuring 50 others.
City Council Speaker Melissa Mark-Viverito said at a press conference: "There are people unaccounted for, and that is of concern," according to a tweet from Yoav Gonen, City Hall bureau chief at the New York Post.
The cause of the fire, which started in the Absolute Piano store at 1646 Park Avenue, was a gas explosion. Last June a new gas pipe was reportedly supposed to be installed at 1646 Park Avenue. There are eight residential units above the store, PropertyShark shows. The other building that was leveled, at 1644 Park Avenue, was a church.
Kaoru Muramatsu is the owner of the building as well as the piano store, according to property records and the piano store website. Her company website says: "Due to an explosion, and the collapse of the building, we are currently closed."
Eight people were killed, 50 were injured and one was still missing, as of 1 p.m. on March 14, the Post reported.
People immediately took to Twitter following the explosion, which was reported to the Fire Department of New York at 9:31 a.m. About 15 minutes earlier, Consolidated Edison reportedly received a call about a gas odor at the site.
PHOTO from explosion + building collapse in East Harlem (photo by @amotherlife) pic.twitter.com/4Rp52DSTP3

— Michael Skolnik (@MichaelSkolnik) March 12, 2014
On my way to work and then BOOM! Building explosion collapse on 116th. NYC #explosion116 pic.twitter.com/4ZIrnoyiET

— Juan A. Vazquez (@madebyjuan) March 12, 2014
Now: #FDNY operating at 1644/1646 Park Avenue, #Manhattan. There are 44 units/198 members responding. pic.twitter.com/RpwNRwkDJL

— FDNY (@FDNY) March 12, 2014
Now: #FDNY responding to 5-alarm fire and collapse in #Manhattan. pic.twitter.com/SRRZhDZEha

— FDNY (@FDNY) March 12, 2014
Now: Photo of #Manhattan collapse. #FDNY has 39 units and 168 members responding. The scene is developing. pic.twitter.com/zWhTmi9Dsm

— FDNY (@FDNY) March 12, 2014