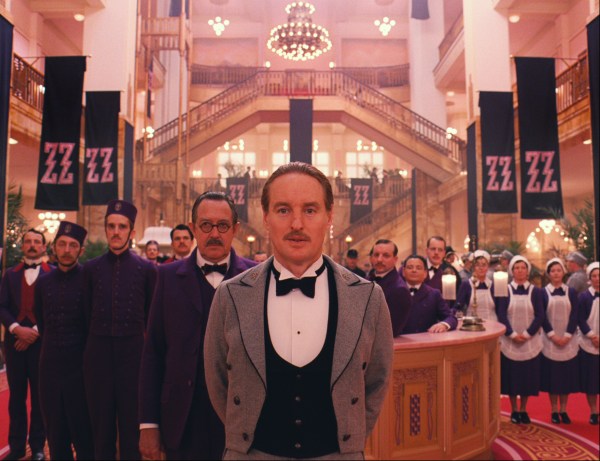 The Grand Budapest Hotel is another giddy piece of period whimsy by Wes Anderson, the deluded director of such brainless fruit salads as The Royal Tenenbaums, The Darjeeling Limited, Moonrise Kingdom, the curious stop-motion animated film Fantastic Mr. Fox and four others. I hated them all. So I amaze myself by liking this latest lunatic cocktail as much as I do. For sure, it's another example of style over substance—a richly deserved accusation that is always leveled at this kindergarten cop of a director, but I confess it's a lot of scattered and disjointed fun.
---

The Grand Budapest Hotel ★★★
(3/4 stars)

Written by: Wes Anderson and Hugo Guinness 
Directed by: Wes Anderson
Starring: Ralph Fiennes, F. Murray Abraham and Edward Norton
Running time: 99 min.

---

 
Lavish to look at, adorned with frills and froth that greet the eye and grate the logic of any otherwise sane person, The Grand Budapest Hotel is like one of those scrumptious lavender Louis Sherry candy boxes from the turn of the century you sometimes see at art shows and memorabilia auctions. You marvel at the fancy curlicues and ribbons on the outside of the purple and gold box, promising a cornucopia of delectable contents inside, until you open it up and find it empty. Here, instead of assorted candied fruits, chocolate-covered nuts and chewy caramels, you get a carousel of characters in colorful wigs, moustaches and costumes, observed by the concierge of a luxurious hotel-spa in a fictional country of Mr. Anderson's invention called Zubrowka, nestled in the Alps of Eastern Europe between World Wars I and II. Monsieur Gustave (played with delightful relish by Ralph Fiennes) watches them all come and go, missing nothing. His stories and adventures are related in the year 1985 to an author (Tom Wilkinson) who wants to collect them in a book, just as they were observed in the 1930s by the hotel lobby boy, an immigrant named Zero Moustafa (F. Murray Abraham), who is now the owner of the once-splendid resort. With novel chapter headings, the fairy-tale narrative unfolds in staunchly staged flashbacks. Monsieur Gustave was a flamboyant bisexual, meticulously dressed and reeking of perfume, who called all men "darling" and seduced women of every age.
When his most illustrious lover, the eccentric 84-year-old dowager empress Madame Celine Villeneuve Desgoffe und Taxis (Tilda Swinton, looking like a cross between Miss Havisham in Great Expectations and Abraham Lincoln in drag, buried by a pound of Max Factor), is murdered, leaving him a painting worth millions, Gustave is set upon by a nest of human cobras who want the painting for themselves. The den of villains is crowded with amusing cameos by Mathieu Amalric as the suspicious butler, Serge X; Jeff Goldblum as Madame D.'s evil executor, Kovacs; a sadist in leather (Willem Dafoe); and the dead woman's son (Adrien Brody). Framed for murder, Gustave and his sidekick, Zero, stage an elaborate prison break with Harvey Keitel, aided by Zero's girlfriend, Agatha (the enchanting Saoirse Ronan), named after Agatha Christie and the creator of elaborate pastries from Mendl's bakery. While solving the mystery of the stolen art and clearing his good name from the annals of crime, the indefatigable Gustave finds time to service a multitude of admirers, deliver nightly sermons to the hotel staff and dodge the pursuit of a Nazi S.S. officer named Henckels (Edward Norton, unrecognizable behind a handlebar moustache). Zany doesn't begin to cover it.
The sets are fabulous, from the crimson carpets and pomegranate wall tapestries of the hotel through snowy forests to the magnificent schlosses and castles of a fantasy paradise replete with a prison surrounded by a moat full of crocodiles. Agatha does miraculous things with buttercreams that look like Faberge eggs and has a scar across half of her face that looks like a map of Mexico. The cannons and sabers are so elaborately designed you can't wait for them to join the action. There's so much to look at—the brass-knuckle violence, the severed head in a laundry basket, the cable car high above the Alps, the sister with a club foot destined to be the next murder victim—you forget that what you're really seeing is charming, elaborate tomfoolery. The inspired set pieces, like the insides of vintage music boxes, overshadow the cardboard figures that inhabit them. In the nonstop overdose of whimsy and imagination, you almost dread the querulous madrigal in your brain that asks: At what point does the plot thicken? Is the movie a metaphor for Looney Tunes and Merrie Melodies?
While the references to everything from Ernst Lubitsch to Grand Hotel pile up, you forget it's all taking place against a background of rising Hitlerism and postwar communism that means half of the staff and guests at the Grand Budapest Hotel will fall to ruin before the hotel does. I had an enjoyable time cataloging the unfolding feasts for the eye while the world behind the windows waits for the bomb, but ultimately, I don't think the movie makes much of a political point at all. Beating Monsieur Gustave to the punch, Mr. Anderson seduces us all, dusting off a world of creeping horror with Mitteleuropa charm. He keeps everybody smiling, ignoring the encroaching darkness lurking under the marzipan.