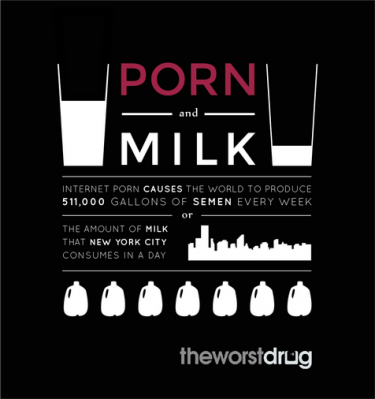 From "Chief Happiness Officer" to "Chief Curator at eBay," the tech industry is riddled with bizarre-sounding job titles — and we here at Betabeat love figuring out what they all actually mean. 
A recent Recode story called "Go West, Young Men" profiled a bunch of migrant techies working in the "Dojo" — a coworking space run by cryptocurrency miner Dave Grossblatt. The story undisputedly had two break-out stars: Raj and Chris, The Worst Drug's (link NSFW) two "GIF Porn Scrapers."
Curious about what it could actually mean to be a "GIF Porn Scraper," we interviewed Raj, Chris and their coworker Katie (all of whom asked to go by their first names). 

What are your official positions? Is working at The Worst Drug your full-time job?
Raj – CEO
Chris – CDO (Chief Design Officer)
Katie – COO
We've all been working full-time on The Worst Drug for a little over a year now.
When did you found the site, and what was your original mission?
Raj: A year and a half ago, I wrote the first prototype of the site in one hour at a cafe in San Francisco. My only goal was to build something useless that would make my friends laugh. My script farmed the most shared animated gifs from across the web and presented those gifs as a slideshow. It just so happens that the most shared gifs are 99% porn.
The next day, I showed Chris the prototype. He immediately shared it with all of his friends (who then shared it with all of their friends). After clicking through gifs for an hour, Chris launched Photoshop and started mocking up UI/UX ideas. Since then, he's been responsible for the look and feel of the site.
Katie has also been involved from the beginning. At first, she laughed and laughed at me for having inadvertently built a porn site. After she caught her breath, she started talking to me about branding, funding, monetizing, and the thousand other things that turn a side project into a company.
We don't mind that we've built a porn site, but that was never our intention. We just want to make a polished product that reflects the web back at itself. Have we succeeded?
What are your education/career backgrounds? Basically, what's the career path to becoming a GIF porn scraper?
Chris: Step 1: Take four hollow tip bullets to the chest, groin, chest and groin. In that exact order.
Step 2: Listen to "Turn Down for What" on repeat for eight hours while editing porn videos.
Step 3: Listen to your mom.
In order to become a GIF porn scraper, you have to complete all of the above steps. Or, if you're truly daring, you can choose the harder road: You can be inspired. Care about craftsmanship at every level – from your database schema to your visual design language. Believe that unintuitive interfaces are inhumane. Believe that well thought out products make the world a better place.
What exactly does "GIF porn scraper" mean? I don't think I've ever heard the words "porn scraper" in a job title before. Where did that come from?
Raj: Nellie from Recode coined that title to nutshellize what we do. It's an unfortunate title, but oddly endearing, and we like Nellie. (And now, I've coined the term "nutshellize.")
Chris mentioned that he edits video — does that mean you guys make your own GIFs, in addition to collecting pre-existing ones?
Raj: Thanks for asking. We don't make our own GIFs – but we do tie the GIFs that we farm back to their source videos. See: theworstdrug.com/video. Click any GIF and click the play button.
Unfortunately, for technical and licensing reasons, we have to edit the video files to be under a certain size and length. So that's why Chris edits the videos.
I read that you guys work in this interesting coworking space. Can you describe your work environment?
Katie: "The dojo" as we call it is a coworking space in SoMa and is part of the philanthropic efforts of a visionary named Dave. It's important to Dave that startups form a real community and push for positive social change, not just profits. We care about each other's projects and meet in our shared conference room to brainstorm and encourage each other. Chris can sing just like Princess Aurora.
What does your daily schedule look like?
Raj: I wake up around noon. I binge work, and Chris and Katie often have to tell me to take a break and watch a movie. I get home between 2 and 5 AM. Then I play a game of Robot Unicorn Attack 2 or listen to an episode of Radiolab and fall asleep.
Chris: I start the day by pumping a fixed gear bike up and down San Francisco's unforgiving hills. My first stop is usually a cafe, where I sketch strangers. After heading into the office, I settle into heavy design work or video editing. In the evening, Raj and I head out for a stroll and our 4th espresso, and we talk 95 percent nonsense and five percent sense (and our best ideas come from the 95 percent). I end the day with a workout or some Skyrim. I love our site, and the lines are definitely blurred between testing it and using it.
Katie: I wake up earliest and check our analytics before getting out of bed. I spend time each day watching our users' behavior and strategizing with the guys about better methods of business and monetization. Since there are just three of us, I have a lot of freedom to invent my job any given day. Basically, anything that doesn't involve writing code or drawing gorgeous pictures of breasts, I do that.
What's your favorite part of your job?
Katie: I most enjoy being in touch with the many friends and users of the site. I tend to our community through social media, email, punk shows, and slot car races. Come banter with me on Twitter.