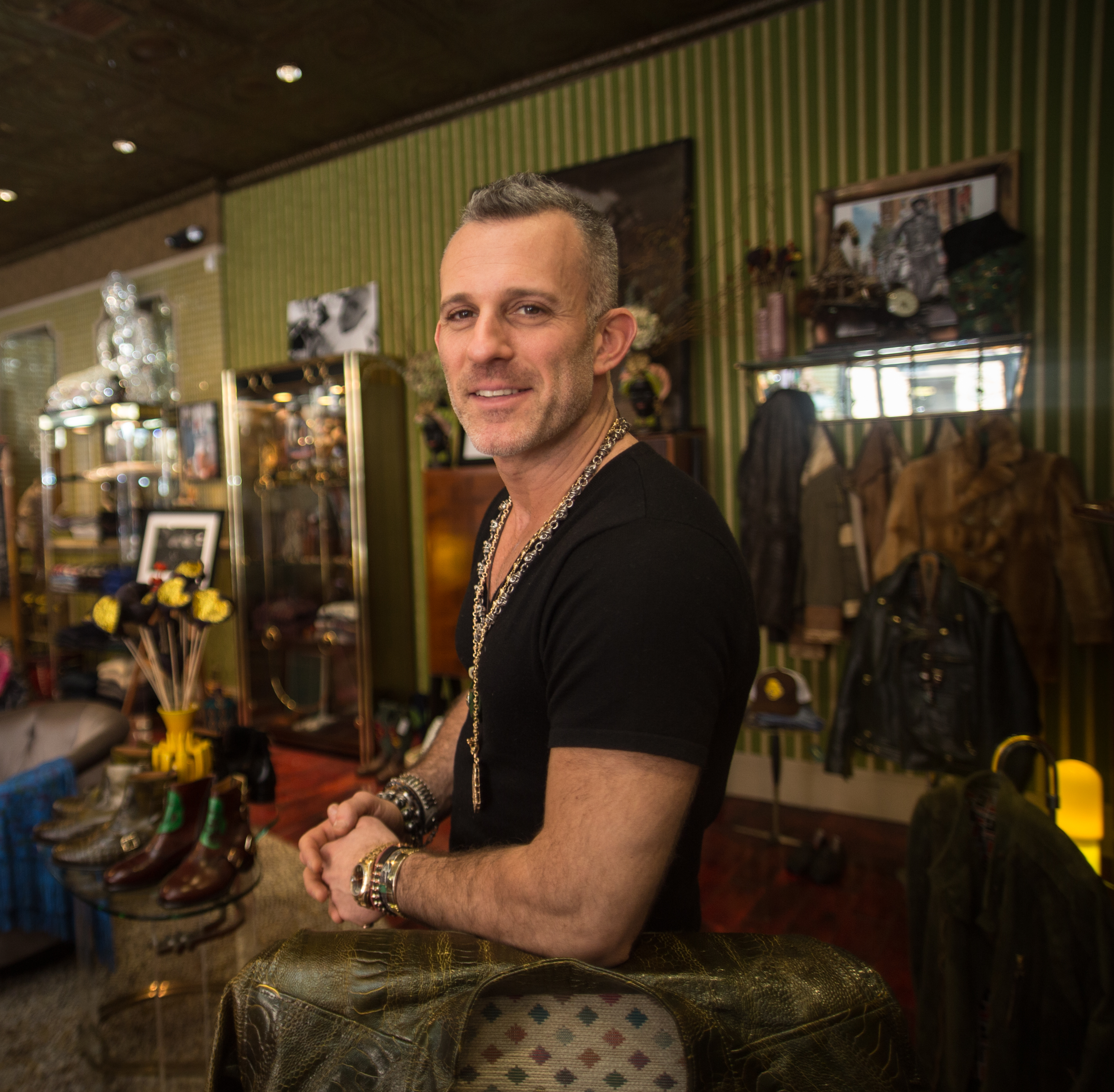 For a menswear retailer, the kiss of death sales-wise lies in one tiny phrase: "I have to ask my wife first."
These words scare us more than dad jeans paired with an untucked button-down and a navy blazer, topped off with a curved-brim baseball hat. The men who utter this immortal line are not sad-looking, style-free saps. These guys believe in themselves, believe me. They are the bankers, CEOs, last remaining hedge fund managers and real estate moguls who have no problem making multimillion-dollar decisions daily. Yet when it comes to whether or not they can wear a pocket square, they need to ask their wives. Would Superman have asked Lois Lane if the cape was O.K.? My staff and I have trained ourselves to smile patiently and nod approvingly while husband-to-wife selfies are texted and permissions granted or not.
Make no mistake, the style savvy are not exempt from permission seeking. Hassan Kinley, one of New York's most talented photographers, shocked me on a recent shoot with his own permission slip confession. Mr. Kinley is a creative type and told me how he had decided to print some of his own photographic images onto pocket squares. He went out and bought a red pocket square to give it a try. That night, after getting dressed to go to dinner with his wife, he went into the bathroom and put in his new pocket square. He looked in the mirror and said, "Wow, I look good!" Yet upon encountering his wife, his sartorial dreams were instantly smashed. "What the hell is that?" his spouse demanded. "It's a pocket square," he said. "Take it out," she said with fervor. "It's not you, and you look ridiculous."
So the pocket square was removed, and he trotted off to dinner, clad exactly as his wife had instructed him. After telling me this story and hearing him talking about his life in this way, Mr. Kinley had a revelation. He told me later that he's not going to ask for permission ever again.
Mr. Kinley's story illustrates the other side of my business. Owning a men's brand means I get to become a therapist and retailer to my customers. The combination of the store environment and the awesome cast of characters, from artists and musicians to ordinary New Yorkers, gives my customers a free pass to knock out a few inhibitions. I can't tell you how many times an uptight Wall Streeter comes in, does a double take at the 74-year-old rock star killing it in leather and jewelry, then leaves with his J.Crew khakis swapped for a pair of distressed leather jeans.
It sometimes takes 10 minutes in a clothing store for a guy to relax back into his real persona. It is an opportunity for him to breathe deeply, think creatively and forget the daily grind. When another friend, an accomplished divorce attorney, came in looking for a sensible suit, his head was turned. Invited to a bar mitzvah on a second date by a wealthy New York social type, she asked him to wear a blue or gray suit.
The day before, he was in my shop and found this incredible one-button, peak-lapel sport jacket in fuchsia wool. He flipped out and paired it with black velvet pants. He called his date and asked if she cared if he wore the new, very much "him," outfit instead of the banker suit. She said, "Sure, do whatever you want."
Well, the fuchsia jacket was a huge hit with the other guests, but it was the last date for this Downtown-meets-uptown couple. The lady was not at all happy with my friend's outfit choice. Hey, better he found out early in the relationship that she's going to run screaming every time he let's loose. In the case of the bar mitzvah, the issue was more than a sartorial clash. My friend is just not the type to let someone else dictate the color of his pants. While fashion moves increasingly toward personally authentic style versus "the look," in certain social enclaves, uniforms still rule.
I remember when I first moved to NYC and we lived on the UES not far from my first shop. My wife would constantly ask me if I was really going out in those pink cords or, even worse to her at the time, a fedora. She wanted me to dress like the other husbands, so people would not question if we were a part of the right crowd. She has since done a 180 and thankfully fully embraced my inner rock star.
I appreciate the honesty of customers whose partners are not as understanding as mine. The bottom line: Clothing is a form of self-expression. If a guy is genuinely happy bottling that up somewhere to please his partner, then I won't hear about it in my store. If he is under pressure to rein himself in too much, I will. No one really needs anything, but shopping makes people feel good. If that includes buying a python blazer or just some good old-fashioned man-to-man chat, then that is our own special form of retail therapy.