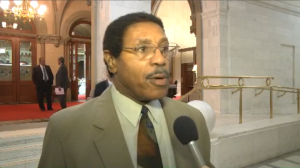 Federal agents today raided the Albany and city offices of Queens Democratic Assemblyman Bill Scarborough, the FBI confirmed this afternoon.
"The FBI conducted searches today of the Albany and New York City Offices of New York State Assemblyman William Scarborough," FBI Albany spokesman Paul Holstein said in a statement. "At this time, no further information is being released."
A spokeswoman for the bureau's city office said the search was conducted as part of "an ongoing FBI investigation," but declined to discuss whether any items were removed, what specifically agents were looking for, or the nature of the investigation.
Reporters at the Capital spotted boxes — sealed with yellow tape and marked "evidence" — being carried out of Mr. Scarborough's legislative office in Albany, according to Capital Tonight.
Mr. Scarborough told reporters at an impromptu press conference that federal prosecutors showed up at the Howard Johnson hotel where he was staying early this morning and said they were looking into whether he had abused his travel expense account, according to video posted by Politics on the Hudson.
"All I know is that I was visited at about 5:45 this morning by FBI representatives and so on who indicated that they thought they had information that I had abused the voucher system," Mr. Scarborough said, staunchly maintaining his innocence.
"I will tell you that of those items that they presented to me I think that most of them are refutable. I believe that they represent a misunderstanding of the Assembly voucher system or a misrepresentation of what I did," he continued. "My belief is that I had acted in accordance with the law. We'll see! They didn't give me very much. I can only go based on what I was told … I don't think that this is warranted."
Mr. Scarborough reportedly filed $33,986 of travel expenses in 2012, according to the Daily News.
A call to Mr. Scarborough's Albany office was redirected to the State Assembly's main press office, which did not immediately respond to a request for comment. A call placed to his district office was unanswered.