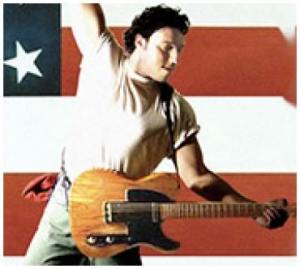 Does it matter what celebrities think of politicians? What about the effect of a politician on a celebrity's appeal? A recent statewide survey from Fairleigh Dickinson University's PublicMind finds the answer is no, at least among registered voters in the Garden State.
When it comes to two well-known New Jersey natives – Chris Christie and Bruce Springsteen – New Jersey voters prefer The Boss over The Gov. And Garden Staters are more apt to embrace the president than the musician who referred to POTUS as a "subhuman mongrel," according to the most recent statewide poll from Fairleigh Dickinson University's PublicMind.
Sixty-seven percent of registered voters have a favorable opinion of Bruce Springsteen, compared with only 46 percent for Governor Christie. Ted Nugent, the singer/political commentator is viewed favorably by 22 percent compared with 52 percent who feel favorably toward President Obama.
As for whether favorability for a politician correlates with higher levels of favorability for an entertainer, and vice versa, the data suggests the two are unrelated. Specifically, attitudes toward the governor are unrelated to attitudes toward Springsteen, and the same is true when attitudes toward President Obama are correlated with one of his biggest detractors, Ted Nugent.
"Of course, one is a case of no love, and the other is a case of requited love," said Krista Jenkins, professor of political science and director of PublicMind. "But either way, music man doesn't appear to sway any voters. The idea that it matters what celebrities think or say about politicians is just not supported by the evidence. Apparently, voters judge politicians on their own criteria and not by their rock star idols."
The recent appearance by Springsteen on Late Night with Jimmy Fallon, in which he lampooned the governor for his role in the Bridgegate affair, clearly resonated better with Democrats than Republicans. Half of all Republicans have a favorable opinion of the music legend, compared with more than three quarters of Democrats (79%). Republicans hold the governor in higher esteem than Springsteen by a sizable margin (73% versus 59%, respectively).
Regarding Ted Nugent and the politician who has drawn the most ire in Nugent's public remarks, around a third of respondents, regardless of partisanship, have never heard of the singer/commentator. His name recognition — or lack thereof — coupled with the percentage who say they "don't know" when asked if they have a favorable or unfavorable opinion of him – make parsing his likability more difficult. Still, some partisan differences are apparent. Democrats have decidedly unfavorable opinions of him (38%), while more independents and Republicans say they like (26% and 28%) than dislike (22% and 21%) him. The same is true when it comes to President Obama. Unlike Democrats, independents and Republicans maintain unfavorable attitudes in numbers exceeding favorable ones regarding the president. Forty-two percent of independents and 20 percent of Republicans look upon the president favorably, as compared with half of independents and more than three-quarters of Republicans who do not like Obama.
Meanwhile, little has changed in the attitudes of Garden State voters concerning the president's job performance and the direction of the country. The president remains a divisive figure, with 44 percent approving of his job performance and 42 percent disapproving. These numbers are unchanged from January's survey of registered voters, when the same number approved and disapproved of the president's job performance. And by a significant margin, more respondents believe the country is on the wrong track (54%) than believe it's headed in the right direction (33%). As with presidential approval, these numbers are virtually identical to those observed in January, when 35 percent said the country was headed in the right direction, and 54 percent expressed concern.
"We're now months away from midterm elections. Democrats can only hope that Obama's appeal both nationally and within New Jersey improves in order help fellow Democrats in congressional races," said Jenkins.
The Fairleigh Dickinson University poll of 703 registered voters in New Jersey was conducted by telephone with both landline and cell phones from March 3 through March 9. The margin of error is +/- 3.7 percentage points.