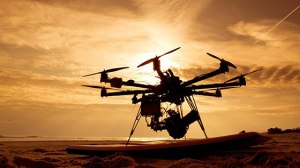 In the first case of its kind, the Federal Aviation Administration (FAA) fined a photographer in 2013 for use of a drone in shooting a promotional video. A judge threw out the fine on Friday, saying the FAA had no authority over commercial drone use. The FAA has kept a tight leash so far on commercial drones, but this ruling could prevent the FAA from doing anything to stop it.
The FAA told Betabeat via email it would be appealing the fine, effectively halting the decision against them, "The agency is concerned that this decision could impact the safe operation of the national airspace system and the safety of people and property on the ground."
The FAA is scrambling to prove that it has the duty and authority to regulate this activity, putting out "mythbuster" articles that clarify what the FAA claims it can and can't do (example: "Myth #3: The FAA doesn't control airspace below 400 feet").
Since 1981, the FAA has offered recreational users of model planes and helicopters simple rules to avoid strict regulation: stay away from people and planes, stay in sight, and stay close to the ground. But you can't build a drone delivery service (ahem: Amazon) with those kinds of rules, and so the real legal boundaries may be tested sooner rather than later.
This isn't just a matter of quixotic business ventures – ideas for small drone use have run the spectrum of police surveillance tools to scary self-defense experiments. To make matters worse the FAA has no sophisticated way of tracking private drone use other than direct reports. It's easy to imagine a growth in drone use beyond what the FAA is prepared for, and for now they're issuing approvals on a case by case basis.
The FAA is rolling out more comprehensive rules for small drones, but if the National Transportation Safety Board rules against them, commercial drones could be left without a regulatory body to control their use.
And we'll be left with fewer answers on what's to come.