A rare, cryptic tweet from the creator of Flappy Bird confirmed the return of what so many have been longing for: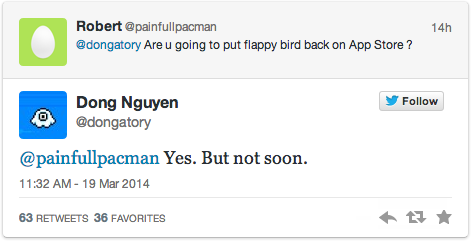 Dong Nguyen pulled Flappy Bird from the app store in early February when the game's notoriety attracted more attention than he could handle. Mr. Nguyen is famous for his tendency of discouraging people from "overusing" the game in bizarre public displays of insecurity.
Addicts have had to stave off their masochistic craving with the dozens of knockoffs while awaiting a possible return. One enterprising salesman tried offloading his copy of the app on eBay for tens of thousands of dollars.
This has been seen as a sign of hope by many, but Mr. Nguyen hasn't exactly been a bastion of reliability.
In the meantime, feel free to play an emulated desktop version of Flappy Bird here, or the Doge version, if that's more to your taste.