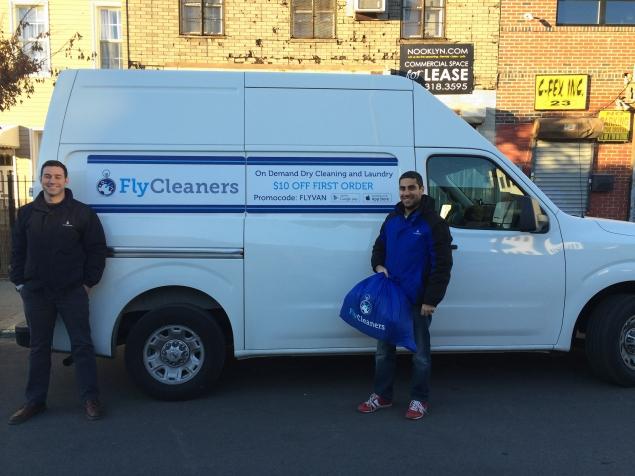 As far as New York City annoyances go, a trip to the laundromat is probably the most demoralizing. If you've got the cash for wash-and-fold, your life will be much easier — but it's often tough to align your schedule with that of the laundry delivery guy, rendering you sock-less for days at a time.
A new app is striving to make wash-and-clean even more convenient — and make trips to the laundromat a thing of the past. Similar startups already exist and serve Upper East Side types, but this appears to be the first one with its sight set on Brooklynites.
Called FlyCleaners, the startup has served North Brooklyn since its December 2013 launch. They announced today that they're moving into Manhattan and expanding service into the 10003 zip code, encompassing Union Square and parts of the East Village, NoHo and Gramercy.
Charging a pretty standard 99 cents per pound for wash-and-fold (with a five-pound, $4.95 minimum), FlyCleaners acts as a middle man between laundry services and consumers. The main difference is that FlyCleaners is open for pickup and delivery from 6 a.m. to midnight every day, pretty much guaranteeing that you'll be around to receive your freshly laundered duds in a timely manner.
Going through the app also means you don't have to shout into the phone as your local wash-and-fold's receptionist struggles to hear you. Everything is contained within your phone. You set the pickup time, specify what services you'll be using, and then set the delivery time without ever speaking to a human. It's every lazy millennial's dream come true.
If you're kind of a baller and require more than the standard wash-and-fold service, FlyCleaners has separate prices for dry cleaning. They charge $1.99 for laundering and pressing dress shirts; $3.99 for scarves, ties and other shirts; $5.99 for sweaters, pants, skirts, basic jackets or sport jackets; and $9.99 for basic dresses or suits. They also offer a green detergent option for the special snowflakes among us who are convinced we have fragrance allergies.
I tested out the service, going for a simple wash-and-fold. It was incredibly easy and stress-free. FlyCleaners bestows on each new customer a giant FlyCleaners-branded laundry bag, a welcome letter and some cheeky stickers to affix onto your stained items.
Overall, FlyCleaners is super easy to use, and even more convenient than using my building's terrifying coin-operated-and-possibly-haunted basement machines, which also tend to rip my clothes apart. This is one more NYC inconvenience vanquished. Next let's tackle Subway Stench, eh, tech community?