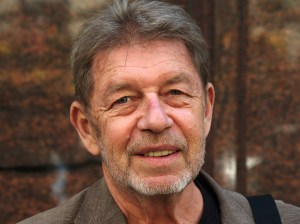 Upon arriving at the cocktail reception for the annual gala of NYU's Glucksman Ireland House last week at the school's Kimmel Center, the Transom quickly learned two key facts about parties thrown by Irish organizations: Rather than discreetly tucked into a corner, the bar will be located smack-dab in the center of the room, and it will never be short on whiskey.
Even once we had ascended six flights to dinner, glass in hand, in an elevator with a group of other partygoers—and one NYU student, befuddled by all the fancy attire and cocktails, who got off on a lower floor—the wine began flowing early and often.
The event, thrown by NYU's center for Irish and Irish-American Studies, honored author and former New York Post and Daily News editor Pete Hamill and restaurateur Michael "Buzzy" O'Keeffe, of the Water Club and the River Café ("somewhat of a culinary Harvard Business School," per the Times). Among those who turned up in support were Ireland's ambassador to the United States, Anne Anderson, chef David Burke, who introduced O'Keeffe, Connecticut Governor Dannel Malloy, Pulitzer-winning journalist Jimmy Breslin, actor Brian Dennehy, who introduced Mr. Hamill, and a scandal-plagued Woody Allen, an old friend of Mr. Hamill and his brothers, about whom some murmuring took place but who appeared to spend the evening comfortably chatting with his tablemates.
There wasn't much time to gossip, anyway, thanks to a particularly lengthy program, emceed by the writer Peter Quinn, who opened his comments with a request. "We have strict rules today: no texting, no tweeting and no twerking," he said, then pointed something out through one of the floor-to-ceiling windows: "The Empire State Building, the world's most famous phallic symbol, has been lighted green in tribute to our honorees."
Mr. Quinn's funny, energetic turn as host varied from musings about Catholicism (and ex-Catholicism) to several imagined narratives, one involving St. Brendan and another describing a dream Mr. Quinn himself had supposedly had about being president. He also acknowledged the stereotypes about Irish food. "Think for just a minute about how far we've come," he said. "Not all that long ago, when the late, great Frank McCourt called his book Angela's Ashes, there were those in the publishing industry who were afraid that people would think it was a collection of his mother's Irish recipes." ("Following Peter Quinn is like being a kazoo player following Bono," Dean Thomas Carew lamented.)
Mr. Quinn also broached a touchy subject for Irish-American New Yorkers: the relative merits of Brooklyn versus the Bronx, a topic Mr. Dennehy took up again later in his own speech. "I remember one time I told a friend of mine in Brooklyn I was going out with a girl from the Bronx," Mr. Dennehy recalled. "And he said, 'Jesus! How do you get there?'"
Despite the convivial atmosphere, though, one conspicuous absence was keenly felt and alluded to throughout the night: that of the poet Seamus Heaney, a friend of the house, who died late last summer and was memorialized by nearly all of the evening's speakers, including Mr. Quinn, who requested a massive standing ovation to honor Mr. Heaney, reasoning that a stadium full of 80,000 soccer fans had done the same after the poet's death. "Think of where a poet's reputation most begins and ends, and try to imagine any other country in the world, including New Jersey, where sports fans would pay such tribute to a poet. So how could we do less?'"
Once Mr. Heaney had been properly remembered and Messrs. Hamill and O'Keeffe sufficiently fêted, the evening came full circle. It was time for—what else?—Irish coffee.