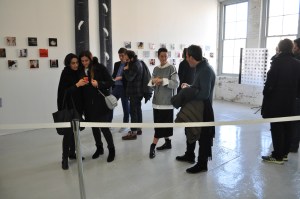 Everyone probably thinks his Instagram is worth a gallery show (it isn't), but Frances Stark's is actually a part of her practice. As such, Gavin Brown's Enterprise is selling unique digital c-prints by the artist at Independent, all square as they are on the app Mark Zuckerberg somehow thought was worth $1 billion.
These go for just $2,500, a relative steal. Director Bridget Donahue said early on people gravitated toward the ones featuring the comic strip character Nancy but since then have shown no trends.
One standout that people seem to be, weirdly, posting to their own Instagrams was a snapshot of an iPhone text message whose sender wrote, "Deitch apparently went up to Puff Daddy at Basel and said, 'Hey Kanye'" and then "adsfkijadjklsda." (Sure, we've all heard that one, but did you pick up on the fact that he also goes by Diddy now? Lots of layers here.) There are two photos of guys exhaling smoke, one shot of a guy fallen asleep next to a Penguin Classics edition of Twilight of the Idols/The Anti Christ and one of Ms. Stark lifting her shirt to reveal the words "SLUT LIFE" written above her belly button. 
Anyway, buy these maybe. But definitely stop posting them on Instagram.