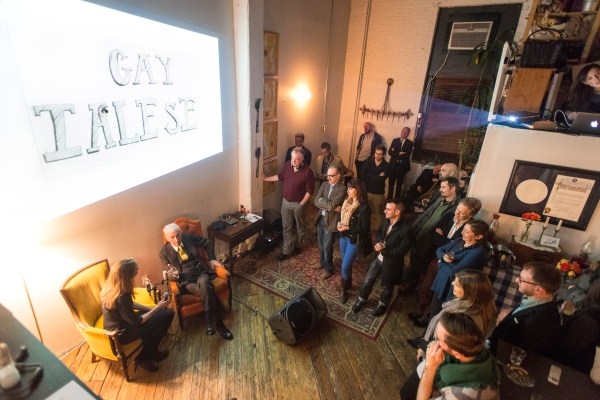 On a recent Thursday night, a literary-looking crowd gathered in a Williamsburg loft to hear stories that nobody else wanted to—or at least ones that travel magazine editors, known for a reluctance to publish less than flattering articles, decided that nobody wanted to hear because their advertisers likely wouldn't.
The event was a reading for Off Assignment, a yet-to-launch website started by Yale professor Colleen Kinder as a place for the unpitchable stories—that is to say, the good ones.
The reading was held at the Whisk and Ladle, a residential space that doubles as a supper club (and has miraculously survived since the supper club boom of 2007).
With Oriental rugs underfoot,  macramé planters hanging from the beamed ceiling and antique badminton racquets on the wall, the Kent Street space could double as a time capsule of  modern boho hipsterism. On the stairway landing, which was used as a stage for the night, a harpist in a flowy dress and a violinist in tasteful gold lamé helped set the mood.
Well-dressed writers stood in line to buy $10 cocktails and snatch up plates of ribs and slaw while talking about making it work as a freelancer, especially during tax season.
In the midst of what may very well someday be recognized as the belle epoch for Brooklyn's bookish types stood legendary writer Gay Talese, dressed in a natty three-piece suit with a yellow tie, sipping a martini.
"Gay Talese in Williamsburg. I think I may be done in NYC," tweeted New York Times travel section editor Dan Saltzstein, along with a photo of the author talking to Kristina Ensminger, one of the writers behind Off Assignment.
Getting an 82-year-old, old-school literary journalist and quintessential Manhattan-ite to a Williamsburg loft was no easy feat.
Ms.Ensminger cold-called Mr. Talese in January, hoping that she could convince her literary idol to be involved in some way.
"I can't hear you. I'm under a Christmas tree," Mr. Talese bellowed into the phone. "Who is this? Speak up!"
Ms. Ensminger, who had nervously rehearsed a whole speech, offered to call Mr. Talese back. Instead, he gave her two minutes to talk.
After stumbling over her pitch, Mr. Talese seemed interested and told Ms. Ensminger to follow up later.
She followed up over email, which Mr. Talese had recently started using, but in a rotary-phone like fashion. His emails featured a formal letterhead, including the date and time, and specific instructions on when to respond ("on Monday after 4:30," one email said).
After a detailed back-and-forth, Mr. Talese was almost convinced, except for one thing: "Tell me this, Kristina," he said. "Why should I come to Brooklyn?"
Ms. Ensminger explained that it was a really unique space and assuaged Mr. Talese's concern that the driver would have trouble finding Williamsburg by promising to personally pick up and drop him off in a car. She also assured him that there would be martinis, which seemed to clinch the deal.
During the Q&A, Mr. Talese sat in a vintage velvet arm chair and regaled the rapt crowd with anecdotes about the stories behind the stories and the stories that took decades.
"Too often people work for magazines or newspapers and are on deadline. If it takes 30 years, let it take 30 years," Mr. Talese said. "Stories never die. People die, of course. But some stories don't."
After the Q&A, Mr. Talese leaned on a ladder, listening to the readers and watching a geography-oriented trivia game. As distinguished essayist Phillip Lopate descended from the stage after reading a piece about signage, Mr. Talese affectionately patted him on the back.
Mr. Talese stayed until the very end, grilling freelance writers on their pitches and sipping martinis as a playlist that Chuck Klosterman had curated for the occasion played in the background.
"I don't think this is the typical crowd Gay Talese hangs out with," Ms. Ensminger said.
Later, blaming the martinis, Mr. Talese worried that he had said too much about his upcoming projects during the Q&A. There is something about Brooklyn that encourages writers to overshare, and apparently, even Gay Talese is not immune