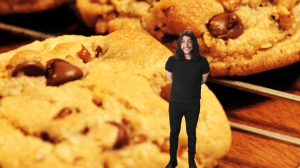 Vine has only been around for about a year, but it's already leaving its mark culturally. "Vine celebs" are a collection of mostly teens and 20-somethings who regale their hundreds of thousands (or millions) of followers with short bursts of comedy and weirdness. A bunch of them even get paid for it.
And now, one of Vine's most famous and beloved users, Nicholas Megalis, has released a music video to accompany his iTunes-charting single, "Gummy Money." The song, of course, grew out of a Vine.
This isn't the first time Mr. Megalis has allowed us a peek into his iced-coffee-addled mind. Betabeat caught up with him last summer on a deranged jaunt around Prospect Park to talk all things Vine. At that point, about half a year since Vine's inception, he was already getting stopped by strangers on the street. Now, his follower count sits comfortably at 3.8 million and he's still creating Vines most days.
This isn't your first music video; you've been making music for years. But what sets this one apart from the others?
Every music video I create has to come from deep inside my heart or I don't want to make it. I wanted to create the greatest music video of all time and I succeeded. My Italian friend Nick Gallo directed it, and he brought a lot of spaghetti. This spaghetti is essential to the video.
Where did you get the idea for this video?
I fell in to a deep candy-related coma in December, and they didn't think I was going to make it. When I awoke, I demanded that the doctor hand me a pen and paper. He did, and I wrote down three words. "Gummy, money, video." And the rest is history.
Who are you hoping to reach with this video?
I want the world to see it. Everybody. Hyper-intelligent insects, old people, nerds, my neighbor Melinda. I make things for myself first, though. That's the only way my work can be real or personal. When you start to make things for someone else, it takes away the magic. Make art that you want to see!!! I want to make people happy, I want to improve their lives even for 6 little seconds. And making people happy by doing something that makes me happy, that's my life's dream.
Take us through the process of making this masterpiece.
We shot the video nine weeks ago. I don't know what day it was but it was freezing outside. I remember it was cold because somebody stole all my clothes and I had to catch a cab in my underwear. Nick Gallo was the Don King to my Mike Tyson. These two twin brothers I know from Ohio who call themselves Seamonster Digital did the post-production wizardry. And of course, those dancers. Nobody has hotter moves than our cast. Nobody on God's earth, at least.
What are your goals for this video?
The goal is always to just create as much stuff as I can while I am breathing. I also really, really want people to spread this video around like a life-threatening flu. I'm proud of it. It's a piece of me. So what's next? Another video. I need to get in touch with Miley. I think we would make a great video.
What's your next project?
As for my next project, right now I'm very busy preparing my acceptance speech for the Greatest Achievement in Human History award. My music video is up against the moon-landing footage, which incidentally was also filmed in a studio in Brooklyn.
How does it feel to be the first Viner to branch out into making a full-length music video and selling your music on iTunes, especially after years of releasing music independently? 
It's never something I've thought of. I don't want to be the first or second or anything. I just want to be the only Nicholas Megalis. Is there another Nicholas Megalis? Please email me if you are out there. If you exist, let's do coffees.
[youtube http://www.youtube.com/watch?v=BI164h8C9KU&w=560&h=315]