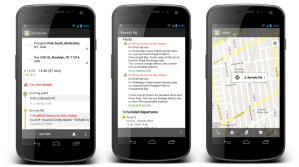 You really can't mess with a 13-year-old over her smartphone these days.
A teen girl managed to get her Samsung Galaxy back after diving into the theives' getaway car while they drove off, DNA Info reported.
The 13-year-old victim was on her way home in Jackson Heights when 24-year-old George Macias asked to borrow her cellphone. When she refused, Mr. Macias grabbed it and ran back to his car where his girlfriend waited.
But the teen refused to give up the fight for her precious device and when Mr. Macias and 19-year-old Marlen Telalyan took off, she jumped through the window at the driver's side and hung on for her life until the car crashed into a wall.
The criminal complaint reveals that after a short struggle (which included Ms. Telalyan hitting the victim in the head and the victim pulling Ms. Telalyan's hair) the 13-year-old managed to take her phone back.
The thieves drove off but police from the 115th precinct arrested Mr. Macias and his girlfriend on March 4 and they were arraigned the following day, according to the district attorney's office.
Both were charged with robbery,  endangering the welfare of a child and reckless endangerment, DNA Info reported.
The thieves better pick their target more carefully next time.