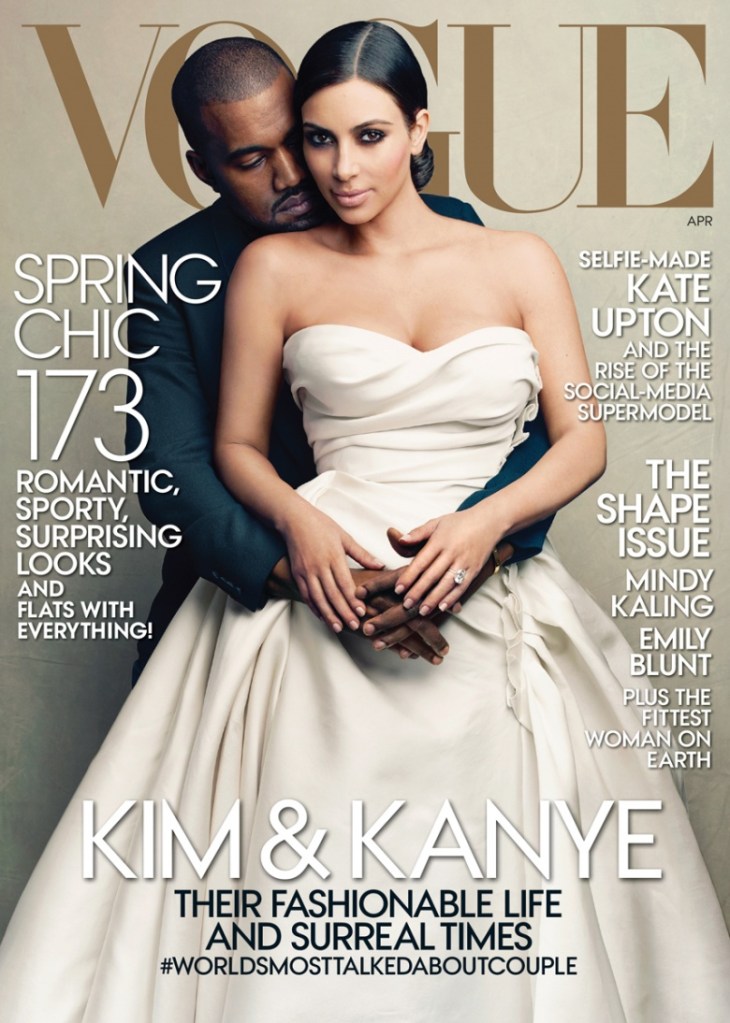 We don't know what's more shocking: that a reality star with a sex tape is gracing the cover of Vogue, or that there's a hashtagged phrase thrown in, too.
That's not to say we aren't thrilled. Kim Kardashian is a megawatt star, and Kanye West is one of the most talented musicians of our generation — not to mention a card-carrying startup bro. They deserve it, they look amazing, and we're happy to see them on the April cover. We expected this all along, TBH. But what really surprised us is the tech jargon sprinkled around their cover portrait.
This isn't the first time Vogue is embracing tech culture — especially its chic-est denizens. But never have we seen such a strong effort to reach out to millennials on the fashion bible's cover. Under the Kim & Kanye cover line, as you can see, is "#WORLDSMOSTTALKEDABOUTCOUPLE." A hashtag! On the cover of Vogue! What is this, Cosmopolitan? Where's Anna Wintour? Is she okay?
And at the top right of the cover is the magazine-ready pun, "SELFIE-MADE," describing Kate Upton, though the same could also be applied to Kimmy. Hashtags, selfies and Kimye. It's like Vogue has been rifling through Betabeat's dream journal for ideas.
It's surprising based on the last decade or so of Vogue covers, which played it safe and pictured models and actresses in flowery, pastoral, WASPy settings. But don't forget that Ms. Wintour first created a stir by putting a denim-clad model on the storied cover in 1988. And then, along with Grace Coddington, she raised hell once more by introducing grunge to the masses in 1992.
So this new side of the mag doesn't mean Vogue is suddenly going downmarket. Instead, it could mean things are looking way, way up for social media jargon and reality TV stars. And we're more than okay with that.
And to tide you over until the actual profile comes out, here's a behind-the-scenes video you're "Bound 2" fall in love with (sryyyyyy):