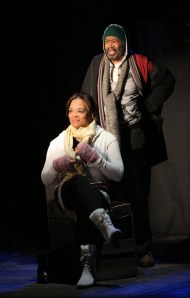 In early 2012, Quiara Alegría Hudes won the Pulitzer Prize for drama. A year later, her prize-winning work, Water By the Spoonful, a play about addiction and redemption among a sprawling Puerto Rican family in North Philadelphia, arrived at the Second Stage Theatre for its New York debut. It was an admirable work if not an ideal one. Now Ms. Hudes has returned to the same theater with The Happiest Song Plays Last, the final play in a trilogy about this clan, which opened Monday night. And once again, the play isn't perfect, but there's an awful lot to like.
The central relationship here is between two strong-willed cousins, Elliot (Armando Riesco, reprising the role), an Iraq war vet, and Yaz (Lauren Vélez), the one who got out—a classical musician with a prep school scholarship, an Ivy League education and a Center City penthouse—but then came back, to settle into her late Aunt Ginny's role as neighborhood protector.
Through the first act, as the two are kept connected by Skype chats and text messages, we watch two relationships brewing. One is between former Marine and aspiring actor Elliot, serving as an adviser and then last-minute replacement star in a war movie filming in Jordan, and his costar, Shar (Annapurna Sriram) a well-educated, part-Arab actress raised in Los Angeles. The other is between Yaz and another neighborhood fixture, Augustín (Tony Plana), an elderly guidance counselor and musician who has decided he wants Yaz to bear his child. In the second act, they all come together in Philadelphia, where Shar is embraced by Yaz's world, as Augustín departs it.
Ruben Santiago-Hudson's direction is assured and poetic, and the acting is strong, but the two halves of the play never attain balance. Elliot's story is interesting and revealing; he is a man who never had many chances but has made some for himself, who did things in war he's not proud of and is trying to figure out how to live with that. His cousin is a recognizable and less-interesting character: a self-appointed savior and resentful martyr, railing against both injustice and ingratitude. Also, her willingness to allow herself to be seduced by Augustín, her friend and childhood music teacher, strains credulity.
So, too, perhaps, does the happy ending, everyone and everything made whole. Family bonds are important, and Yaz and Elliot draw strength from them. But Elliot and Shar flew from Jordan to Cairo as the Tahrir Square protests erupted, to witness the flowering of Arab democracy. They should know that even the most hopeful moments often don't end happily.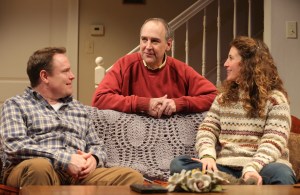 For the unnamed family in Will Eno's The Open House, which also opened Monday night, at the Signature Theatre, familial bonds aren't empowering but rather excruciating. Father—the characters aren't given names—is a sarcastic bully, hurling calmly cutting abuse at whomever he pleases. Before the play is over, his derision will have cut through his family, and himself, leaving behind just his house, with a whole new set of people in it.
Mr. Eno, who is having his Broadway debut later this season with The Realistic Joneses, specializes in offbeat, largely affectless wordplay that underscores the fundamental loneliness of existence. This play may form the apotheosis of that combination. Directed by Oliver Butler, it is impeccably acted and very funny; it also feels sad, empty and somewhat meaningless.
Mother (Carolyn McCormick) rolls Father (Peter Friedman), wheelchair-bound, into their nondescript living room and settles into a side chair with her crossword puzzle. Moments later, the rest of the family is there—Uncle (Michael Countryman), Daughter (Hannah Bos) and Son (Danny McCarthy). It is the parents' anniversary, which is why the kids are home, and Father has been ill. Uncle has lived with the family since he lost his wife. "She was killed in a tornado," he reminds his brother. The reply: "Oh, right. That does sound familiar."
It is deeply enjoyable, at first, to watch this group get jabbed like a speed bag—Mr. Friedman stings like a bee—and to see how the family reacts. Uncle and Son are largely defeated; Daughter attempts, ineffectively, to resist ("Don't call me 'Dear,'" Father snaps at his wife. "She didn't," Daughter notes, accurately); and Mother has settled into her own, benign bubble. "I'm holding you," she says, from across the room, when Daughter mentions doctors have found a "bump" near her spine. (Ms. McCormick is particularly good with Mother's mix of injury and subtle invective.)
Just as all this deadpan acrimony starts to wear thin, Mr. Eno delivers a new trick. For one reason or another, family members leave the house, and soon enough, the actors return as different characters. Ms. Bos is the first to do this and, therefore, the most unexpected; her transformation into a fast-talking real-estate agent—turns out Father has also put the place on the market—is profound enough that it takes a moment to register that it's the same performer. Uncle returns as Brian, eager to buy the new house; Mother returns as Brian's wife, Melissa; Brother as a handyman; and, eventually, after he has been carted off by paramedics, Father is back as Melissa's brother, a lawyer. It's this new crew that ends the play, standing in that same living room.
It reminded me, of all things, of the title-generating line in Zach Braff's 2011 play at the Second Stage, when one character reassures another that  "in 100 years, there'll be all new people." There, it was a Zen affirmation about the fundamental insignificance of our problems. Here, it is a warning.
Of course, actors are always playing two roles: themselves and their characters. The ways in which those two personalities blend and interact is the focus of Sarah Ruhl's excellent backstage farce Stage Kiss, which opened Sunday at Playwrights Horizons.
Jessica Hecht, always charmingly hilarious and here playing with obvious glee, is She, an actress who has spent 10 years being a mother, auditioning for a revival of a terrible play about a dying married woman still in love with a man from her past. She's cast, and she discovers at the first rehearsal that her leading man, He (Dominic Fumusa), is—wouldn't you know it—a man from her past with whom she's still in love. The first act is a delight: There are kisses and more kisses, some performative and some amorous, a besweatered, befuddled director (Patrick Kerr), a flamboyantly gay understudy (the eager, knowingly campy Michael Cyril Creighton) and a play-within-a-play so bad that two characters have the same name. Play mirrors life, life mirrors play, and by the time they open in New Haven, at the end of the act, She is ready to leave her comfortable life with her banker husband and move in with He.
Act Two isn't so much Noises Off, with its flip of perspective—here, we've been backstage all along—as it is Into The Woods, what happens after happily ever after. She and He, so passionately in love before, are cramped into his dumpy walk-up, broke. The director reappears; he has written a play about a prostitute and a pimp. They're debuting in Detroit, and they're falling out of love. (Mr. Creighton is back, too, ridiculously and amusingly, as a pimp.) By the end, order is restored, She is back with her husband and daughter, though with the agreement to work on keeping their marriage fresh. This, like the extended earlier discussion on the nature of love, God and soul mates, is less fresh, less fun.