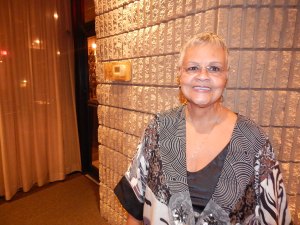 Two days before the Mercer County Democratic Convention, and a day after she failed (as expected) to attain the line in Middlesex, 12th Congressional District candidate Assemblywoman Bonnie Watson Coleman (D-15) of Ewing issued a release trying to squelch the idea that her allies will allow state Sen. Linda Greenstein (D-14) to occupy outlying territory in Mercer.
Part of Greenstein's plan, according to sources close to the campaign, is to lock down Middlesex – which she did this weekend at her home county's convention – and pick off suburban portions of Mercer.
Late last week, the senator sniped the East Windsor Education Association (EWEA) in her 15th Assemblywoman's home county of Mercer.
Today, pushing back against any more attempted incursions, Democratic leadership from Hopewell Township, Hopewell and Pennington endorsed Watson Coleman for Congress.
Hopewell Township Democratic Committee Chair Ray Disch, Hopewell Township Mayor Vanessa Sandom, Pennington Democratic Committee Chair Eileen Heinzel, Pennington Mayor Anthony Persichilli, Hopewell Democratic Committee Chair Samara McAuliffe and Hopewell Mayor Paul Anzano released the following statement announcing their endorsement of the assemblywoman in the CD12 Democratic Primary.
"With his intellect and strong Democratic values, Congressman Holt has been a tremendous representative for our district. Following his decision to not run for re-election we were concerned that we wouldn't have the same strong, fearless, Democratic representation in Congress moving forward for the 12th Congressional District. Once Bonnie Watson Coleman announced her candidacy for the position, those fears were put to rest. Bonnie is someone who has always been there when called upon, she stood side by side with Barbara Buono in her uphill run against Chris Christie last year when others were trying to tie themselves to the Governor in order to win elections, and she has shown an ability to work with both sides of the aisle while standing against the Tea Party extremists of the far right. Bonnie has been a strong, fearless advocate for the constituents in her district and she is the exact type of leader the 12th District needs down in Washington."
Watson Coleman issued the following statement thanking the Hopewell Township, Hopewell and Pennington Democratic leaders:
"I am very proud to receive the support of these strong Democratic leaders. Today's endorsement is yet another strong signal to people throughout the 12th Congressional District and across New Jersey that our campaign is rapidly gaining momentum. Every day we have more Democrats coming out to join our fight for the nomination and today's declaration of support for our campaign is emblematic of what we continue to hear on the campaign trail. I look forward to the opportunity to fight for the 12thCongressional District in Washington the same way I have fought for the people in my legislative district in Trenton."