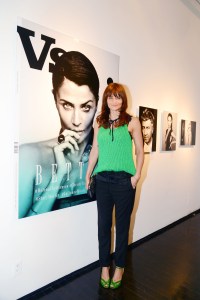 "I'm just going to put this right on my face," supermodel Helena Christensen said to The Transom, wielding a plastic cup of red wine, by way of greeting last Tuesday evening. The handiest flat surface was indeed, as it turned out, a stack of Vs. magazines whose covers featured a stunning shot of Ms. Christensen in close-up by photographer Karen Collins; the party was in honor of the issue, simply themed "Better," which Ms. Christensen had guest-edited.
Ms. Christensen had hand-picked Ms. Collins – but under duress, she explained. "I actually did not want to be on the cover! I said to Jakob [F. Stubkjær] and Vibe [Dabelsteen, Vs.'s editor-in-chief and fashion director, respectively]: No, no, no, no, you don't put yourself on the cover when you guest-edit!"
As a co-founder, fifteen years ago, of alt-fashion magazine Nylon, Ms. Christensen knows a thing or two about editorial etiquette. "I knew a little bit – or, back then, I knew a lot – about how to do it, how to sort of get an issue together," she explained. "But this is a lot of work. It's a lot of interesting work."
We soon learned Ms. Christensen's capacity for inspiration extends all the way to her fingertips, which sported a multicolored manicure. It's a habit of hers. "I usually even have ten different colors – but, you know, when you walk into the nail salon, they're like, 'Oh, god, here she comes again, so annoying,'" she said. "But what I do is – it might sound a little bit funny, but I might be looking through a magazine or an art book or see a movie; and there are certain colors – like, say, a Francis Bacon painting – so I might actually take a little snap on my phone of one of his paintings, bring it to the nail salon, and bring those colors that apply to his painting."
And this particular configuration? "This was a Bacon, yes," Ms. Christensen confirmed.
Nearby, at least five of nightlife impresario Nur Khan's fingernails weren't visible at all: he was sporting a serious black cast on his right forearm, the product of a broken hand. "It's because he was fisting someone too hard," his friend Jamison Ernest, of the Yellow Fever fashion and music label, said. Mr. Khan set us straight – it was "just mixed martial arts" – but he did immediately thereafter indulge, with Mr. Ernest, in an extended riff about the hazards of masturbating with one's non-dominant hand.
Across the gallery, two young women were attempting a meta-selfie, posing in front of a portrait by Ellen Von Unwerth, available for bidding, of two other young women (models Camilla Christensen and Emma Stern) taking a pouty photo of themselves with the Eiffel Tower. "We're specifically trying to get the selfie-on-selfie," one explained, reasonably. "Careful, careful!" her friend admonished. "You're spilling your wine."
Though Mr. Stubkjær and Ms. Dabelsteen were in demand all evening, The Transom did, after several hours, manage to catch and congratulate each – and to reminisce about Ms. Christensen, a longtime friend of both. "Helena doesn't even like the word 'supermodel. She told me this – 'What is a supermodel?' – maybe the first time we worked together,'" Mr. Stubkjær said.
"Supermodel," he continued, "is really '90s."