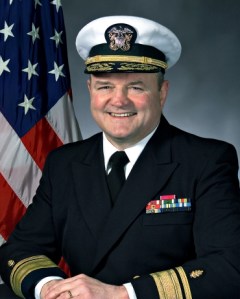 The retired Naval rear admiral billing himself as the homegrown CD 3 candidate seeking the Republican Party's nomination to replace outgoing U.S. Rep. Jon Runyan (R-3) is dug in until the bitter end.
Toms River Councilman Maurice Mo Hill says the fight for the party's nomination will absolutely be a "floor fight" during a voting convention later this month. Despite largely lacking establishment support in Ocean and Burlington counties, Hill says there's zero chance he'll back out of the race until officials in both counties vote on a candidate.
"I've lived here all my life and I'm not going to give up without a fight," he said ahead of the Ocean County March 19 nominating convention.
"They'll have to take me out kicking and screaming," he said. "People may want me to quit but I'm not going to."
Screening committees in both counties have recommended the line go to former Randolph Mayor Tom MacArthur. However, the support has come with backlash from some who criticized MacArthur and another CD 3 GOP hopeful – former Bogota Mayor Steve Lonegan – for relocating to the district ahead of the race.
"It's not going to be a rubberstamp," Hill said.
"We're going to have voting machines [at the convention] and it's going to be secret ballots," he said, declaring, "This is democracy in action."