The invitation to Perez Hilton's birthday party came with the following disclaimer:
Please note: a strict dress code will be enforced at the door! Every single guest MUST come in an outfit inspired by Madonna – that can be something you put together that captures the essence of her, it can be completely recreating one of her many iconic looks, or it can be just wearing a Madonna t-shirt.
So I had to dress like Madonna. For the first time since I graduated from college I had to utter the words "I have to go shopping for my costume."
Perez Hilton made a name for himself in the early aughts with a gossip blog that was particularly cutting in its coverage of female celebrities. In recent years he has distanced himself somewhat from the hot pink, palm tree'd, dick doodling aesthetic of the website that made him famous, moving to New York and welcoming a son born from a donor egg and carried by a surrogate in 2013.
So it was that on Saturday night I made my way to 42West, a "straight-friendly" dance club in The Out Hotel in Hell's Kitchen, wearing leather and lace culled from my own wardrobe with a generous helping of extremely cheap cross jewelry. I passed inspection at the front door and wandered into the club, where the rum cocktail to guest ratio was approximately a thousand to one.
Over the next hour or so the space started to fill up, with people gravitating toward the stage, which was set up for a band and included a runway that jutted out onto the dance floor. Some guests had taken the strict dress code enforcement clause on the invitation more seriously than others. I spotted several pitch perfect iterations of "Express Yourself" Madonna, "Like a Virgin" Madonna, and even "Don't Tell Me" Madonna, who had brought her own lasso for the occasion.
Others seemed to think a T-shirt bearing the words "Desperately Seeking Susan" would suffice. Jay Manuel clearly wanted another excuse to wear his matador costume. But where was the guest of honor?
Perez eventually sauntered into the club to very little fanfare, despite being outfitted in a platinum blonde wig and wearing a corset and cone bra contraption.
"I don't really know much about him," a photographer assigned to get a shot of Perez with the sponsored contents of the goody bag told me, which seemed like a profoundly sad thing for a party attendee to say about the birthday boy.
"How do I look?" Perez asked when he first took the stage, some time after 11.
"Madonna is my ultimate icon," he gushed, so he jumped at the chance to turn his birthday into a Madonnathon. He went on to introduce the first of several performers, Princess Superstar, who sang some anemic Kesha-lite hashtag rap backed by a bass beat that made my hair vibrate.
Sometime after midnight, with the encouragement of Botran Rum, I made my way closer to the stage and tapped Perez on the shoulder. I introduced myself and mentioned that I was covering the party for the Observer. What was his favorite version of Madonna?
"Blond Ambition," he said immediately. Too easy. I asked if he would be performing later, but he was leaving that to the professionals.
It was a study in contrasts — the hashtag rap aside, the performances kind of brought the mood down. How could they not, when every time the stage was empty the DJ continued to work his way through Madonna's catalogue, while male go-go dancers gyrated so enthusiastically that sweat dripped into their gold lamé Speedos.
Finally, Perez took to the stage again to introduce the headliner. It was JoJo. Remember JoJo?
"We're going to take it back to 2004," she announced, launching into that one song that people associate with JoJo. Sure, why not? the crowd seemed to express in unison.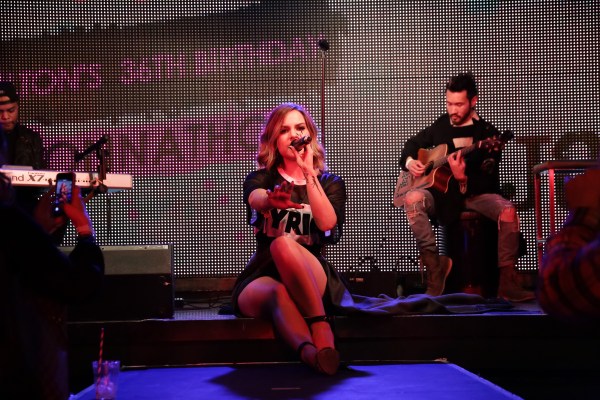 "We're going to turn it down a bit, but keep the emotions high as always," she said as an introduction to her next song, which I took as my cue to leave. I retrieved my coat and walked into the cool late March night.
"No Madonna outfit? No Madonna outfit!" An off-duty member of the Fashion Police who stood outside smoking a cigarette pointed it at me accusingly.
"Excuse me," I retorted. The money I spent at Forever 21 on my cross jewelry was not going to go to waste. I untied the belt on my coat and opened it with a flourish.
"Ooh, 'Like a Virgin'," he crowed approvingly.
Perez Hilton was 36.