It all happened so fast. Strolling up to the booth of Beijing–based gallery Space Station; getting handed a lime green "Double Fly Happiness Lottery" ticket the size of a bookmark; and being told to scratch away the gray strip on one side. Double Fly Art Center is a group of nine male Chinese artists, who'd transformed the booth into a carnival game, lining the walls with plastic bags containing fake flowers and other prizes. More were arranged on the ground, and visitors to Armory Show's VIP preview this morning could pay $50 to toss colorful rings at the packages. Some were miffed at the price. "We're going to be very Jewish about it," one man told the Chinese dealer on hand before departing with his pack of friends. (Everyone got a lottery ticket for free, but his apparently only scored him a small discount on the hoop toss.)
Ours was different—"A photography work of Double Fly" it read after the strip was scratched away—and suddenly a dealer was handing over a heavy, mounted photograph, about 18 inches wide, of the nine Double Fly Art Center artists standing around sullenly in Calvin Klein boxer briefs. They look as though they'd been oiled up for the occasion.
"It's an experimentation with the art fair," said dealer Fu Xiaodong, through a translator, of the lottery. "People are buying not artworks, but chance. 
The booth also featured a video of the nine artists clambering around in full-body animal costumes and having a strobe-lit orgy. The walls were festooned balloons that could be heard periodically popping throughout the rest of the VIP preview.
"Is this how an emerging super power should act?" mused one man taking in the scene. "I'm not sure." 
Focus: China is the fifth edition of the Armory Show's regional section, organized each year by a different curator. This year it's Philip Tinari, director of the Ullens Center for Contemporary Art in Beijing, who chose 17 galleries representing more than 30 artists to show at the fair. 
"There's a lot of talk about art in China now, but it's always either about Ai Weiwei/censorship or market antics/auction shadiness," he told me in the VIP lounge at the opposite end of Pier 94, where it felt about 20 degrees warmer than it did in drafty Focus. ("All the dealers are so mad at me," he confessed, "but in a really polite Chinese way, you know: 'If we get sick, we'll sue you.'") He was excited, he said, to present a more complete picture of China's contemporary art scene, especially one distinct from what Westerners might picture based on the art being made there in the early 2000s. "I definitely wanted to get beyond that notion of…pink babies and green dogs," he said. "I kind of wanted to expand people's understandings a bit and to show there is sophisticated and original art being made, and often that work doesn't necessarily look Chinese."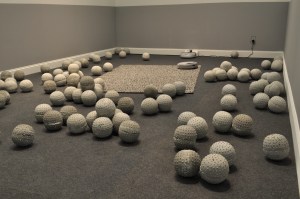 Back in Focus, a round, robotic vacuum cleaner was swerving around the booth belonging to Hong Kong-based Gallery Exit. Like a cross between a household appliance and a horseshoe crab, it stubbornly was butting against gray spiky balls scattered around the booth. They were enlarged dust particles, explained dealer Arianna Gellini, but they were meant to evoke explosive mines. "He was interested in creating a stage and creating an environment between a domestic setting and a war zone," she said of the artist, Nadim Abbas, who was born in Hong Kong. The company that makes the droid-like vacuums reportedly also makes military supplies. 
The central stretch of the Focus section was filled with wonky blue exercise equipment. The five-member artist collective Polit-Sheer-Form-Office was presenting the machines, which looked more like bits of a blown apart jungle gym, as readymades. The Queens Museum's director, Tom Finkelpearl, tried one out with his wife, Brooklyn Museum curator Eugenie Tsai. "Really, what does this do?" she said laughing, as they easily pushed a pendulum-like footrest back and forth between them. The collective will be featured in a fall show at the Queens Museum devoted to artists from mainland China. 
"They're absurd in a way," said dealer Matthew Borysevicz, who explained that this equipment has been widely installed in public parks throughout China as part of a national fitness campaign. "You're better off doing this," he said making a slight finger gesture that may have burned half a calorie.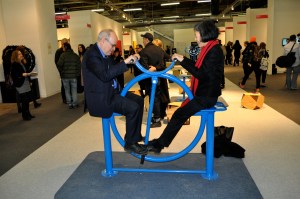 After Mr. Finkelpearl and Ms. Tsai dismounted, nobody else seemed to try the bizarre blue devices. "People are a little confused as to whether they're allowed to interact with them," said Mr. Borysevicz. "And not everybody's willing to make a fool of themselves," he added as he vigorously swiveled around on a small blue platform attached to some handlebars. 
Galerie Krinzinger/Shanghart Gallery transformed their booth into an aggressively red room dominated by a shiny, angular black monolith that made it feel like the set of a Stanley Kubrick film. Hong Kong's 10 Chancery Lane Gallery presented a historical survey of artists working in the 1970s and '80s, including abstract paintings by Huang Rui—banned and censored when they were first made—that looked a bit like Mondrians but in an earthier palette. It was easy to miss the commissioned work by Xu Zhen, an enormous white, lidless box bearing no conspicuous signage. If you looked at Action of Consciousness, as it was called, for long enough, though, you would see random objects briefly appear above the walls before falling back into the cube.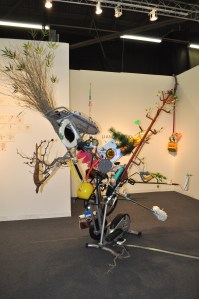 Gallery Yang, which is based in Beijing and focuses on young artists, was presenting sculptures—eclectic assemblages of toilet seats, celery stalks, bicycle wheels and other objects—by Liang Shou. "Young artists don't really care about the political scene," said the dealer there. "They care about themselves. It's quite different than the last generation." 
Mr. Tinari, back in the VIP lounge, agreed as he sipped a double espresso whipped up by the Hotel Americano team. "They're not gonna go and struggle," he said. "[There are] diminishing returns in fighting the Communist Party. They have a pretty firm rule on the country, right? There's still a whole range of opinions and subjectivities that can be expressed, though." 
There were some exceptions to the apolitical tenor of Focus. Chambers Fine Art, a gallery based in Beijing and New York, was presenting paintings and sculpture by Zhao Zhao, who worked as an assistant to the famous artist and dissident Ai Weiwei for many years. In 2011, Mr. Zhao made a monumental limestone sculpture of himself attired in the uniform of a Chinese police officer, which he blew up. The fragments, including a detached head, were exhibited in the Beijing gallery. The number on the uniform was the date Mr. Ai was detained. He has a "similar temperament and disposition in a way," dealer David Clements said of Mr. Zhao, comparing him to Mr. Ai. "He's not a big fan of authority." 
Mr. Clements said that, though he and other dealers were apprehensive about potential backlash from the Chinese government, they did not experience any interference while exhibiting Officer in the gallery. That came later, when they tried to ship it to the United States for the artist's first U.S. solo show. The piece was confiscated and never returned.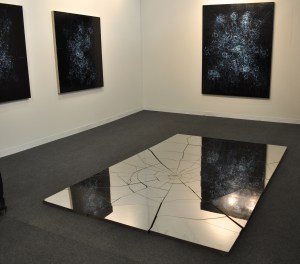 The experience was educational. Now the dealers know "there are things you can do to make it less obvious it's his work" when shipping it internationally, according to Mr. Clements, who said it helps to first ship the work to Hong Kong before sending it to the States. The works on view in Focus are paintings and sculpture relating to a car crash Mr. Zhao endured. 
Mr. Ai, was conspicuously absent from the booths of Focus. This was a considered curatorial decision, according to Mr. Tinari.
"He doesn't need to be here if you've done the Turbine Hall commission and a major, 10-venue traveling retrospective and whatever—name your next 10 art world laurels," said the curator. "This is much more about bringing other things into view."