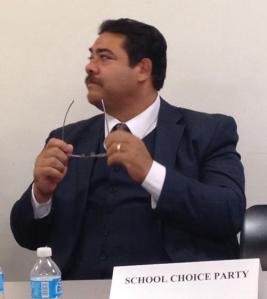 Rev. Erick Salgado, a socially conservative Democratic pastor who waged a colorful campaign for mayor last year, has his sights set on a new target: incumbent Republican Congressman Michael Grimm.
Mr. Salgado confirmed that he is considering challenging the congressman in a brief phone interview this afternoon.
"I might! I might! I might strike back, it's true," Mr. Salgado said when asked whether he in the running, adding that he would soon register a fund-raising committee. "We are putting together the committee, the exploratory committee, and we are going to start to pick up the signatures."
"It's evident that the need of the people of Staten Island is to have someone to represent them well after all of the devastation we had with Hurricane Sandy. People are still struggling here over on the island," the Staten Island resident said.
Mr. Salgado, the founder of a radio ministry known as "Radio Cantico" Nuevo Inc., became known for his lively debate performances last year, which included at one time cracking a joke about outgoing Michael Bloomberg banning "chicken wings."
Boosted by his support in the Hispanic, Russian and Orthodox Jewish communities, Mr. Salgado was able to raise hundreds of thousands of dollars and ultimately finished in sixth place, behind the five major Democrats in the primary. He then soldiered on in the general election on the "School Choice Party" line.
Should he run for Congress, Mr. Salgado would also be facing off against a much more established Democrat: ex-Councilman Domenic Recchia, who has been endorsed by the Staten Island Democratic Party and is backed by the Democratic Congressional Campaign Committee.
But Mr. Salgado said he was disappointed with Mr. Recchia's vote to raise property taxes while he was a councilman, which Mr. Recchia has defended as necessary in the immediate aftermath of the 9/11 terrorist attacks. Mr. Grimm has also hit Mr. Recchia on this issue.
As for Mr. Grimm, Mr. Salgado said, "All I can tell you is that with Erick Salgado, you're not going to have a pretty face in Washington, but you're going to have someone who looks out for the needs of the people."