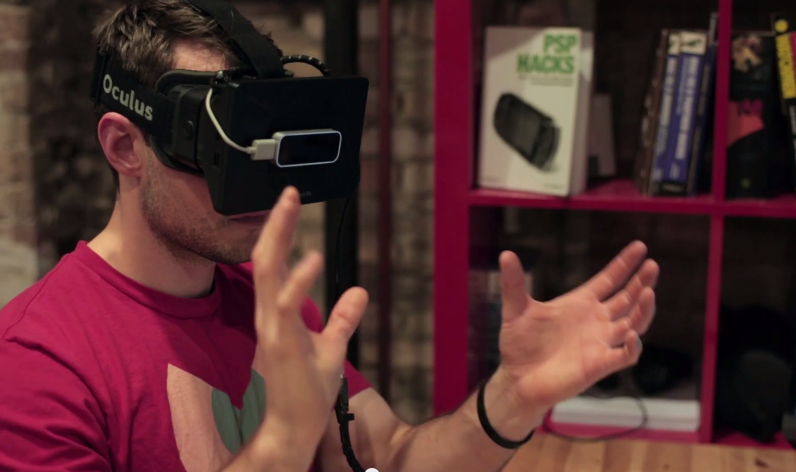 Chaotic Moon Studios, the same guys that brought us CUPID the flying taser drone, put out a video this morning demonstrating the possible future of Oculus Rift.
Chaotic Moon has been playing around with Oculus Rift's first developers kit for a few months. But when they heard the announcement that Facebook (META) had bought the company for $2 billion, they thought it was time to show the world what they've been working on.
Keep in mind, this isn't necessarily in development by Facebook or Oculus VR, but a third-party developer's preview of the possibilities:
[youtube=http://www.youtube.com/watch?v=dWEonGJtvwo&w=560&h=315]
"We recognized the potential of this product right away and built prototypes for both education and gaming experiences, and that's just the beginning," said Chaotic Moon Studios CEO Ben Lamm.
Chaotic Moon is in the business of making software tools for major brands. If virtual reality becomes a part of mainstream media and social networking use, it's only a matter of time before major corporations will use it to sell things.
Facebook's acquisition of Oculus VR has caused a rift (hahaha) amongst Oculus's diehard fans, with some developers backing out entirely. But Chaotic Moon Studios thinks that Facebook's stake in Oculus is a great opportunity for virtual reality to hit the mainstream hard and fast.
"This investment by Facebook will make the product more available to startups, hackers and developers like us," Mr. Lamm said. "The more people that get their hands on the Rift, the faster we'll be able to collectively push this product into new, exciting use cases."
The video is just proof-of-concept — this isn't a finished, market-ready product we're seeing. This is simply a demo of the hypothetical possibilities from a interested third party. But many have been wondering just what the hell it could mean when a social network spends billions of dollars on a video gaming peripheral.
At least now we have a look.