Last year, when the Elm opened at the King & Grove Hotel in Williamsburg, I wrote that while chef Paul Liebrandt's food was accomplished and elegant, the King & Grove was an ill-fitting home and didn't bode well for the neighborhood. Upon reflection, I should have realized that the lively Williamsburg over which I felt so protective only existed in my mind. If it had ever existed, it didn't in 2013.
At the time I wrote that review, in which I awarded the restaurant three stars, Mr. Liebrandt still had Corton, his flagship restaurant in Tribeca. But last July, he left Corton to focus on the Elm, and since the Elm is decidedly less formal, Mr. Liebrandt was deprived of a clear opportunity to express himself in his most eloquent idiom: fine dining. So four months ago, he unveiled the Little Elm, an eight-seat marble counter at the back of the Elm where his more refined impulses enjoy free rein.
---

The Little Elm
★★
160 N. 12th Street
Brooklyn, NY 11249
(718) 218-1088

---
One of my problems with chef's counters is the awkward intimacy between diner and chef. It's not because I'm a restaurant critic, though that doesn't help. It's the attention demanded by the chef, whose heroic performance takes place so nearby. Happily, since the Little Elm's kitchen is largely dedicated to the Elm, that awkwardness isn't there. Mostly, you are ignored.
The tasting menu consists of eight listed courses and a few extras. The menu itself, found in a drawer beneath the counter, comes in a gray envelope with a waxen seal. Each course is listed as a pair of ingredients, starting with "Black Bass | Hon Shimeji" and ending with "Chocolate | Berry," implying some deep binary relationship.
Mr. Liebrandt is a big, tall guy who works in miniature. Even before the first course, he offered one of the extras, a pygmy Oreo made with cacao nibs, whose size, unfortunately, was its most piquant characteristic, its taste here nor there, a pun but no punch line.
That was fine—the kitchen offered diversion enough. I watched with fascination as Mr. Liebrandt used tweezers to arrange layers of the lightly pickled hon shimeji (a small Japanese mushroom) and the konbu-cured black bass in a beautiful gold-flecked bowl, adding sprigs of watercress before placing a translucent disk of dashi gelee atop this fishy funghi mound, which looked like it was underwater. The taste, briny yet slightly puckering, was both sea and worthy.
However, in the next course, I immediately discerned a systemic shortcoming in Mr. Liebrandt's cooking, or at least a part of it that doesn't resonate with me at all. "Foie Gras | Black Trumpet" consisted of a perfectly formed foie gras terrine beneath a circle of black trumpet gelee—essentially a big black luxury death star surrounded by dots of celery root crème, slices of raw mushroom and sprigs of mizuna. In isolation, each element was flawless, the foie gras unusually creamy, the trumpet gelee insistently woodsy. The dish was also beautifully plated—celestial, with a cold, stern beauty.
Yet the subtlety of the trumpet was drowned out by the clamoring richness of the foie gras, and those orbs of celery root crème seemed disconnected from the main protein, whatever it was. I had flashbacks to my parents' divorce—three people sitting in a room not talking to each other.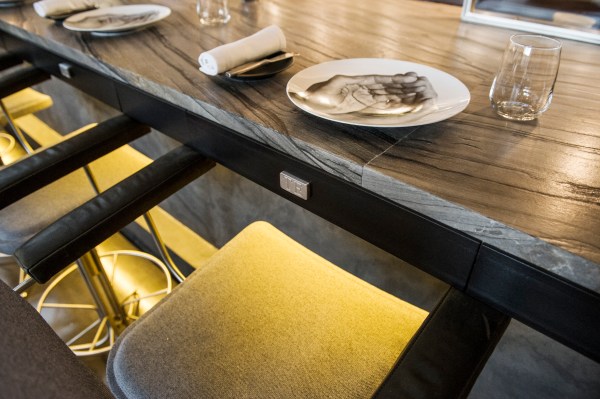 That opinion was reinforced as the meal went on. Parts of "Lobster | Yuzukosho" (the latter a Japanese seasoning used for grilled chicken, among other things) worked wonders, especially the charred cabbage over a navy bean and red cabbage marmalade. But an interloper, a vagrant chunk of grilled chicken, lurked on the periphery of the plate. Why was that there?
Course five brought more disconnectedness: the "XO Terrine," an alabaster disk of pork, scallop and lobster, served warm, offered a clever rearrangement of classic XO flavors. But its neighbors, a square of red pepper gelee and another of lemon peel confit, added nothing. Again, no one was talking to each other.
This isn't to say there weren't enjoyable moments. For one, seeing Mr. Liebrandt slip a piece of venison into the mouth of his grill guy, or hunched over with the tweezers, creating art before your eyes, is a joy.
And his plates do feel cohesive at times. The expertly grilled Scottish venison accompanied by pickled red currant and a plank of eggplant dusted with vadouvan and pain d'épice (smart man's Cool Ranch Dorito dust) is a showstopper.
By and large, though, while I respect Mr. Liebrandt's genius, his culinary world is cold, a bunch of beeps and boops that leave you full but unsatisfied.
What the Stars Mean:
★★★★★  Philosophy. Execution. Ambiance. Deliciousness. These powers combined form five stars.
★★★★  Largely successful with a few forgivable flaws but, yeah, generally awesome.
★★★  A valiant effort, though shortcomings consign it to mediocrity.
★★  Still not on the side of the angels but not, you know, the worst.
★  Pretty terrible but a glint of goodness.
(No stars)  An abomination.