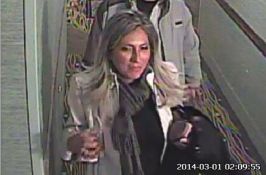 It will take more than clicking your heels to solve this crime.
The NYPD is seeking a woman full of courage (or is it stupidity?) who stole a replica pair of Wizard of Oz ruby slippers from the Hilton Garden Inn on Staten Island. The theft occurred at 2:15 a.m. on March 1.The shoes, valued at $2,500, were on display in the hotel's lobby.
The Wicked Witch who committed the crime was caught on tape by one of the hotel's 50 security cameras. She is plainly visible in the snatch of security footage released by the NYPD.
According to Richard Nicotra, the owner of the Hilton, the full video shows two men lifting the front of the display case and the woman snatching the shoes. The woman put the slippers on during an elevator ride to the sixth floor. Eventually, she got away in a taxi while the whereabouts of the men are still unknown.
Mr. Nicotra bought the shoes while on vacation in Paris, according to the Staten Island Advance. They were a reminder to guests that while "there's no place like home," the Hilton provides a homey experience. Mr. Nicotra told the Advance that he felt "disappointed" and "violated" by the theft.
Sigh. If these thieves only had a heart.
[youtube http://www.youtube.com/watch?v=oM2doMoi43A&w=420&h=315]