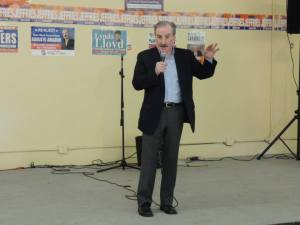 NEWARK – East Ward Councilman Augusto Amador defended his record against a crowded field of challengers, stating that his ward, made up mostly of Newark's diverse Ironbound neighborhood, is a better place with him at the helm.
"It's campaign rhetoric," Amador, 65, said. "These individuals show up once in a lifetime every four years. Anyone has the right to have their five minutes of fame."
Amador spoke to PolitickerNJ.com following comments made on Friday by Omar Nieves, a retired Newark police officer and businessman who is one of four council candidates challenging the 16-year incumbent.
"There is a huge lack of city services. For a ward as taxed as heavily as [the East Ward] is, we're not getting our fair share of police protection or economic development that creates good paying jobs," Nieves said at a press conference officially launching his campaign. "As the representative of this ward, and we pay such a big share of those taxes, then where did those dollars go?"
The Portuguese-speaking population has economically and politically dominated the Ironbound, which largely comprises the East Ward, for generations. Nieves, who was born in Puerto Rico and has a Portuguese-American wife, added that other communities who live in the neighborhood, including Latinos and African-Americans, "have been ignored for a long time."
"It is true that demographics have changed in the East Ward. But if you were to look at what the Ironbound looked like when I first got elected in 1998, it looked like a disaster in comparison to what it looks like today," Amador, who was born in Portugal, countered. "We are the victims of our own success."
According to municipal economic statistics, the East Ward is responsible for 60 percent of Newark's residential tax revenue and 80 percent of the city's commercial tax revenue.
But Amador asserted that under his watch, the East Ward's tax burden has improved.
"Property taxes went down 16 percent, which I fought very hard for," Amador said. "There is more equity throughout the entire city in terms of taxes that the various residential communities pay in Newark. Commercial taxes went up considerably because of the [property] reevaluation. However, my work for the owners of those properties paid off."
The field taking on Amador in the East Ward includes candidates Luis Correia, a legislative aide to Councilman-at-Large John Sharpe James, longtime Ironbound politico Jimmy Parrillo and political neophyte Jonathan Seabra.
Amador has endorsed Newark mayoral candidate and former state Assistant Attorney General Shavar Jeffries for mayor and is the East Ward candidate on Jeffries' council slate.
The May municipal election is just more than nine weeks away. The deadline for petitions to run for council, and thereby put all the slates in place, is Monday at 4 p.m.
None of the other East Ward candidates have yet joined the council slate of Jeffries' main rival in the mayoral race, South Ward Councilman Ras Baraka.
"The impact of support from Mr. Baraka for them at the local level will be minimal," Amador said. "There is a perception that the influence of outside politicians in terms of how this community is going to vote for mayor and for council is enormous. I don't see it that way. It's more related to how the candidates relate to the neighborhoods and to the communities, and what they have to offer in terms of the future of this city."