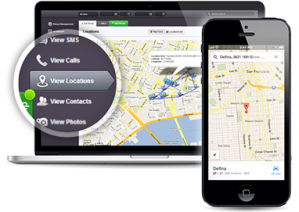 If you're scared your partner is cheating on you, you love snooping through their phone, and you are completely shameless, have we got news for you.
A surveillance company that recently set up shop in New York City is now offering phones with their spying software pre‐loaded. And they're cool phones, too. The company is offering an iPhone 5s, HTC One, Nexus 5 or Samsung Galaxy S4 fully equipped with mSpy for about $200 more than the device's regular cost.
Just buy one online, present it to your trusting lover for their next birthday, and go crazy. Or rather, remain crazy, because to do this you'd have to be nuts.
mSpy's software keeps track of calls, emails, texts, keystrokes, WhatsApp and Skype chats, location and more, says a release from the company. Forty percent of mSpy's customers use the software to keep tabs on their kids, the release reads. Employers also use the software.
Legally, you can't use mSpy unless you inform the person using the device that you're creepily watching their every move, mSpy's heads told Betabeat a few weeks ago. But we're sure that won't stop everyone. There are a lot of crazy voyeurs in the world.