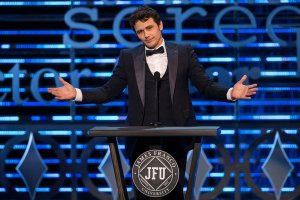 James Franco, he of the Shia LaBeouf sympathy camp, will be showing a bunch of his art school films that didn't get wide release as part of IFC's Francofest from March 5th – March 13. Catch him during one of his eight personal appearances and ask him the secret of life: Legend has it that he'll be forced to answer you, or pay you off in marijuana.

From AnimalNewYork:
Screening at IFC Center's FrancoFest are Danny Boyle's 127 Hours starring Franco, "Franco's darkly comic directorial debut follows a struggling writer trying to contend with an ape living in his NYC apartment" The Ape, "Franco's bold adaptation of William Faulkner's classic 'unfilmable' novel" As I Lay Dying, "Franco's lush black-and-white portrait of the brief and tumultuous life of 20th-century poet Hart Crane" The Broken Tower, Ian Olds and "Franco's pseudo-doc goes behind-the-scenes of the actor's infamous stint on soap opera General Hospital" Francophrenia (Or: Don't Kill Me, I Know Where The Baby Is), Franco's Good Time Max, Howl starring Franco as Allen Ginsberg, Franco's Idaho and other shorts, My Own Private Idaho the Gus Van Sant original and Franco's River Phoenix outtakes re-edit My Own Private River, "William Friedkin's 1980 ode to fisting, faggotry, and flash cuts" Cruising, Franco's Cruising-inspired Leather Bar, Franco's Sal, Spring Breakers starting Franco, and "FrancoShorts" Franco's short film collection plus "gallery work and music videos."
Legend also has it that if you can stand so much Franco and watch all the entries, you'll get to become the next James Franco. Fun!