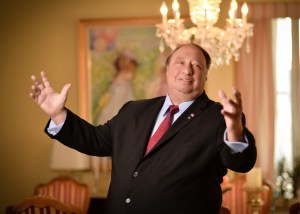 John Catsimatidis, the former Republican mayoral candidate and billionaire owner of the ubiquitous Gristedes supermarket chain, has a new gig hosting a weekly radio show on AM 970 The Answer.
The Cats Roundtable, which will air Sunday mornings from 9 a.m. to 10 a.m. beginning this week, will feature interviews, listener call-ins and "John's unique take on the news affecting New York," according to a company press release.
"I'm incredibly excited about this. After the Mayor's race, I was struck by how many New Yorkers from all walks of life were anxious to continue the conversation about how to improve our city. As a lifelong fan of local radio, I'm convinced that this is the best way to do that," Mr. Catsimatidis said in a statement.
"People are anxious to hear more about some of the issues we raised during the campaign, like how to keep crime low, how to improve our schools and a new approach to transportation," he added.  "That's what we'll do each week."
Mr. Catsimatidis drew headlines during the mayor's race for his out-of-the-box policy ideas, like a city monorail, and colorful debate performances, which included lines like, "I have a love factor with the minorities."
"John is simply one-of-a-kind. I've come to consider him New York's First Citizen," said Jerry Crowley, the station's general manager, in a statement. "The fact that he knows and has worked with nearly every newsmaker in the world will allow his show to have access to short of high profile guests most shows can only dream of."
Guests on the first episode of the show will include former Mayor Rudy Giuliani and former Gov. George Pataki.