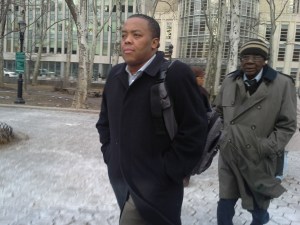 Jury reshuffling has delayed deliberations in Assemblyman William Boyland Jr.'s corruption trial.
The group had spent most of today deliberating the case against the Brooklyn lawmaker and could not reach a verdict by 5 p.m. today, extending the trial into tomorrow. Since one of the jurors in the case has a prior scheduled commitment tomorrow, an alternate juror who sat in on the trial will serve as a replacement.
Judge Sandra Townes told Mr. Boyland and federal prosecutors that since the alternate juror did not deliberate with the jury today, the jury must begin the deliberation process "anew" tomorrow. It's not clear when a verdict in the case will ultimately handed down. 
Mr. Boyland has been charged with 21 crimes accusing him of four schemes, including a top count of attempted extortion while serving as an elected official. If convicted, the assemblyman faces up to 30 years behind bars.
Mr. Boyland, hounded by reporters as he left a federal court house today in downtown Brooklyn, declined to comment.