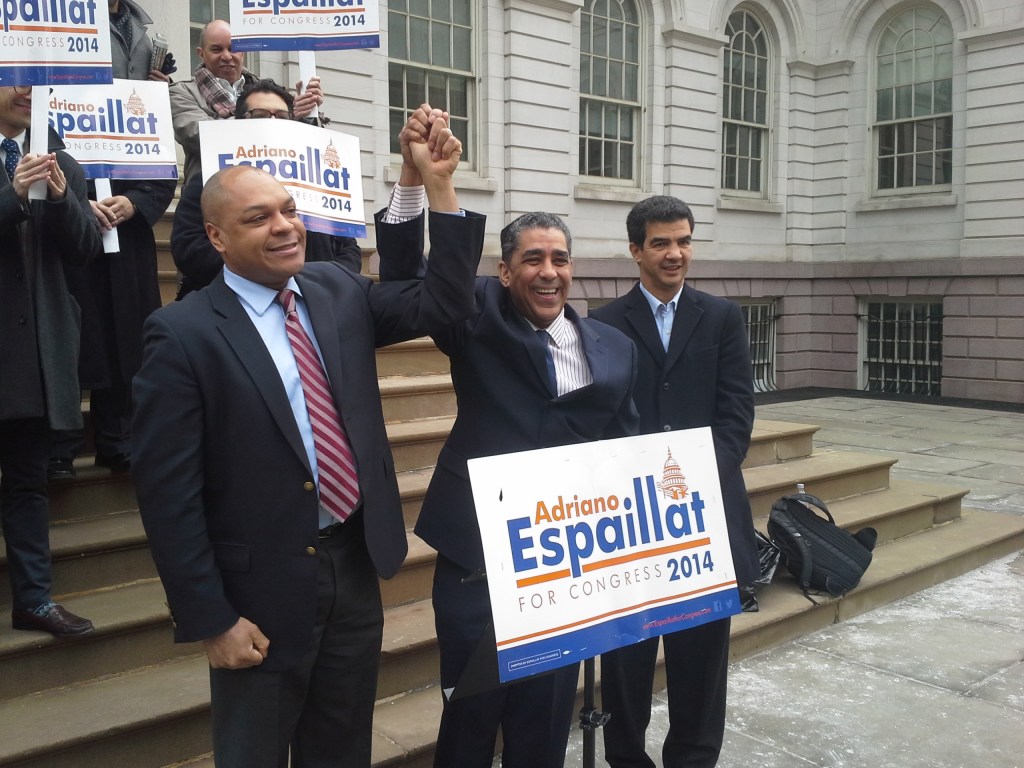 Assemblyman Karim Camara endorsed State Senator Adriano Espaillat's bid against Congressman Charlie Rangel this morning, a largely symbolic move attempting to show that Mr. Espaillat is successfully dipping into the incumbent's African-American base.
Mr. Camara, the leader of the state legislature's Black, Latino and Asian Caucus, hails from central Brooklyn and did not make an endorsement when Mr. Espaillat first tried to unseat Mr. Rangel two years ago. While Mr. Camara's constituency resides nowhere near the northern Manhattan and Bronx district that Mr. Espaillat is hoping to win, the lawmaker, who is considered by many to be a rising star in the Democratic party, promised to work to "amplify" Mr. Espaillat's accomplishments in the district.
"When there was a necessity to bring ethnic groups together, to bring personalities together, [Mr. Espaillat] was there as a leader. So now we need his leadership even more. Not just in the New York State Senate, we need his leadership on the congressional level," Mr. Camara said on the steps of City Hall. "With the fight that we have, not only in the state but of course primarily on the national level for immigration reform, we need him there as a leader."
Mr. Espaillat and Mr. Camara were close allies when the former served in the Assembly. Today, each cited the need to knit together coalitions between blacks and Latinos around common issues like immigration, economic development and education. 
Neither lawmaker took direct swipes at Mr. Rangel, who may be facing the toughest re-election fight of his life against Mr. Espaillat and Mike Walrond, a Harlem pastor and political neophyte who is also in the running. Mr. Camara said he respected Mr. Rangel's legacy but thought Mr. Espaillat could do a better job in Washington.
"This is about, again, the positives of what Senator Espaillat can do in Congress. This is not about negatives towards Charlie Rangel or anything of that nature," he said. "It's about moving forward … The more I saw the [Espaillat] campaign, the more I saw the issues that were [brought] forward and I said, 'This is an exciting opportunity to be a part of something dynamic.'"
Mr. Espaillat, who has beefed up his campaign with National Action Network and 1199 operatives, also trumpeted Mr. Camara as one more member of his diverse and "impressive" coalition.
"I've said along the way, in this campaign, in the weeks that we've been actively campaigning that we will put together an impressive coalition of voices so that we can have one voice in congress that will represent all of these communities," Mr. Espaillat said.