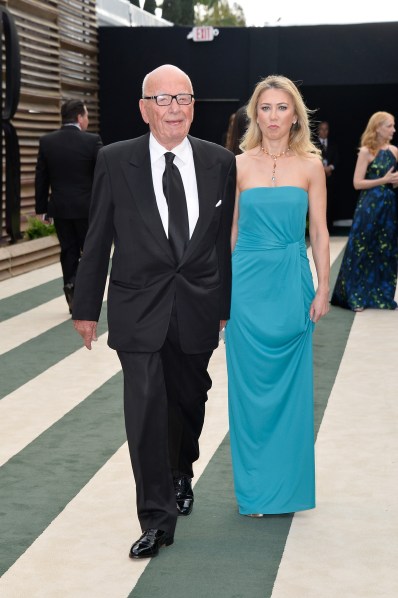 Now that Rupert Murdoch is single, he is not surprisingly very popular with the ladies. Especially in Los Angeles. 
Last night, the 82-year-old media mogul showed up at Vanity Fair's Oscars Party with a date: Juliet de Baubigny, a Vanity Fair-certified nicely dressed Silicon Valley venture capitalist. 
Of course, making a power list is no guarantee of getting Mr. Murdoch all to yourself on Oscar night. 
"But the venture capitalist was not the only woman surrounding Murdoch at the party on Sunday night. Murdoch was surrounded by a flurry of young women at the Hollywood party," The Daily Mail  reported. 
The fact that Mr. Murdoch is now an eligible bachelor will not come as news to faithful readers of The New York Times styles section and/or of Mr. Murdoch's Twitter feed.
"NYTimes says I'm most eligible bachelor! Wish I was forty years younger," Mr. Murdoch tweeted.
In December, an L.A.-based Times reporter overheard "two well-coiffed ladies of a certain age (50s, with work)" talking about the then-freshly divorced octogenarian over drinks at the Sunset Tower Hotel.
"You know, Rupert Murdoch is back on the market. You should go for him," one woman said, prompting Brooks Barnes to narrowly avoid choking on a peanut before evaluating Mr. Murdoch's prospects and soliciting tips from dating experts for a Times story. 
Looks like he didn't need the advice of AARP's dating columnist, who warned Mr. Murdoch against trying to appear younger by dying his hair, wearing tight jeans, or letting his shirt hand out of his jacket.
Although we doubt that the ladies were clustered around Mr. Murdoch just because of his age-appropriate black tie.