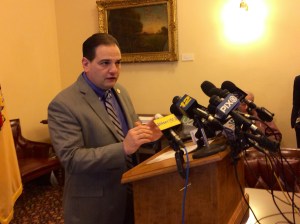 TRENTON – Declaring it "a journey of 1,000 steps," Sen. Nicholas Scutari (D-22) announced Monday a proposal to legalize and tax marijuana in the Garden State.
The state senator is taking the lead on legislation that would pave the way for legalization and permit residents to carry up to one ounce of marijuana and grow up to six plants. It calls for 7 percent tax on marijuana with 70 percent of revenues going to fund the transportation trust fund, 20 percent funding drug treatment and 10 percent of revenue going toward funding women's health care.
"We're going to treat marijuana like alcohol," Scutari said simply.
"I've been thinking about this for a long period of time," he said. "It's time to update our archaic drug laws … [and] bring marijuana out of the underground."
The state has the potential to cash in on sustainable revenue if the controlled substance is regulated and taxed, said Scutari, estimating the total revenue and savings from implementing the bill could equate more than $100 million annually.
Scutari's district mate, Assemblywoman Linda Stender (D-22), will sponsor the bill in the lower chamber.
New Jersey's Republican governor's unequivocal opposition to legalizing marijuana in New Jersey is well documented. However, Scutari says the proposal is a push to get the discussion rolling on marijuana legalization.
"He's not going to be the governor forever," he said, adding, Gov. Chris Christie is "a man of facts" and could have a change of heart once he reviews the bill and the potential cost benefit.
When asked if he would support sending the question to voters as a referendum, Scutari told reporters the tactic isn't "part of this journey."
Under the proposal, marijuana would be regulated much like alcohol.
"Anything you can't do while you're drinking now you wouldn't be able to do under marijuana," said Scutari, explaining the bill calls for bans on smoking marijuana in public or operating a vehicle under the influence.
And if anyone is wondering whether the lawmaker has ever smoked himself?
"No," Scutari said. "I never smoked marijuana."
But would he try it if it were legal?
"I don't know," Scutari said, shrugging off the question. "Maybe."