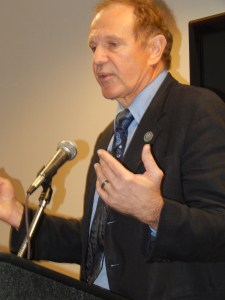 Senator Ray Lesniak (D-20) introduced legislation today to replace three New Jersey gubernatorial nominees on the Port Authority Board of Directors with public interest members nominated by New Jersey Future, the Regional Plan Association and the Tri-State Transportation Campaign.
Unlike previous nominees to the board, they would not be subject to the advice and consent of the State Senate. The new members would replace the three most recent appointees, excluding reappointments, according to the bill.
Under investigation for his role in Bridgegate, Port Authority Chairman David Samson; and commissioners Pat Schuber and Richard Bagger would be replaced.
"The abuse of this multi-billion dollar public agency can only be prevented in the future by having public interest members overseeing the Authority's decision making who are not tied to either the governor or the state Senate," said Lesniak. "While political considerations were part of the process under previous Democratic and Republican governors, Chris Christie made the Port Authority a wholly owned subsidiary of his re-election campaign."
Because of the Federal Compact that established the Port Authority the legislation would have to be approved by New York as well as New Jersey. Lesniak said he believes New York would not object to New Jersey deciding the composition of the board's members in light of the recent exposure of abuses.