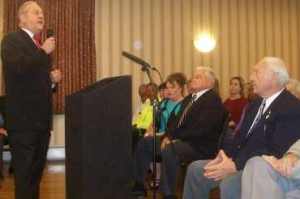 Beat up in local elections four and plus years ago, the Union County Democratic Party methodically fought back, since then dislodging two out of three renegade mayors.
They took care of Garrett Smith in 2011, supplanting the off-the-reservation mayor of Roselle with 31-year-old Jamel Holley.
Then last year they found a way to come together – over the objections of the local Democratic Party chair – to defeat independent incumbent Joe Menza in Hillside.
Mayor Angela Garrettson replaced him.
Now Democrats have another primary election, this time in Linden, where the last-standing independent mayor in that east Jersey industrial swath mulls over a third term.
It's Mayor Richard Gerbounka, who four years ago survived his general re-election contest by a handful of votes after the local Democratic Party's establishment got upended in the primary by renegade Democratic Councilman Derek Armstead and then backed Armstead against the mayor.
The partnership between Armstead and the county party organization didn't exactly go swimmingly, according to sources, who concede, in fact, that it ended badly.
Armstead was eyeballing establishment support for the primary this year, but sources say that won't happen.
Instead, Democrats intend to back Councilwoman Rhashonna Cosby-Hurling for mayor, which means Armstead, running off the line and already a declared candidate, will have another Democratic Primary to get through before facing Gerbounka again.
That is, if Gerbounka runs.
So far, the mayor has been publicly coy.
"I haven't made up my mind," he told PolitickerNJ. "Honestly, the Democratic candidates may force me to run again."
Those curious about what Gerbounka will do may find a clue in the following: he picked up petitions to run.
He has to get them in by Primary Day.
In the meantime, though, he's simply enjoy observing the cannibalization of his rivals.
Sources say Democrats tried to make him change parties so they could avoid the agony of wounding one another before they get to Gerbounka, but the mayor didn't want to part with his independent slate and so refused, opting instead to remain independent even after the political demise of his old allies Smith and Menza.
Other sources – Democrats – say it wouldn't have worked anyway, as Gerbounka, a backer of Republican Gov. Chris Christie's, would get run over in a Democratic Primary, according to street polling..