When it is 4:30 am and the city is dark and its only sounds are the growl of municipal engines, the whisper of radiators and the squeaky arpeggio of rusty gates, look east. When you suffer from the night time howls, when you're low and a day of sharp elbows awaits, look east.  East is where the sun rises and the sky turns from black to black-blue to robin's egg. East is where the day comes gently, a reminder that gentleness is ours to inherit.
Few of the shiny, happy people at John Fraser's new restaurant, Narcissa, housed on the ground floor of the Standard East hotel, make a habit of catching sunrise, I would wager. Night owls don't go in for the predawn. Like elves at Rivendell, their lives seem charmed and their nights long, but never truly dark. They may wear black silk shifts and merino sweaters, clichés of stylish New York, but all have incandescent smiles that keep the terrors at bay.
On a recent Thursday, in the more informal of the restaurant's two rooms, a youngish couple held their stemmed glasses at a cant. They could have been blocking a scene for Paolo and Francesca or any other pair of youthful lovers. In fact, the room, with its soaring cantilevered ceiling and open kitchens with long marble bars, seemed built as an incubator for love. The room is so lovely those not in love felt they were trespassing.
In the main dining room, which resembles a Shaker discotheque, with mirrors mounted on what look like pizza boards hanging from walled pegs, nearly every table was filled by diners from the same social strata, but of various vintages, like a vertical tasting of the well-to-do. At one hexagonal table, a late quartet of silver foxes lingered over coffee and a deconstructed carrot cake. Next to them sat their younger selves, in silkier dresses and tighter jackets, agog over a plate of rotisserie-crisped beets, one of Mr. Fraser's many inventive triumphs. Peering at the plate, their eyes narrowed slightly in bafflement, then widened with joy. It looked like The Incredulity of Saint Thomas starring handsome young professionals. "What are those?" asked the one with the silver pendant earrings. "Delicious," answered the one with the never-troubled brow. Teeth twinkled all around.
---

Narcissa
★★★★★
21 Cooper Square
New York, NY 10005
(212) 228 3344

---
These men and women might never have been up at sunrise, but thanks to Mr. Fraser, they have tasted its charm. In a culinary culture defined by aggression, whose signal sound may be the priapic shwoop of a knife being inserted between the words "Top" and "Chef" and whose metric of success is the size of one's brands, Mr. Fraser has been conspicuously absent.
Over the last seven years, Mr. Fraser has opened only three restaurants and failed to appear on any culino-martial television program. His first restaurant, Dovetail, an uptown fancy named after a type of woodworking joint, is still going strong. His second, What Happens When …, was a short-lived Downtown pop-up named after an idea—never a good idea. His third, Narcissa, is named after a half-Jersey, half-Swiss Brown heifer owned by Andre Balazs, the hospitality impresario, handsome dater of famous women and proprietor of a farm in Rhinebeck called the Locust.
Mr. Fraser's touch has always been light, but at Narcissa, he makes lightness luminary. Like the best chefs, he is more listener than talker, but that doesn't mean he lacks interesting things to say. A vegetarian during his few personal hours, Mr. Fraser is especially eloquent about vegetables. Those rotisserie-crisped beets, for instance, beat meat. Patience and prudence plus invention turn them into deeply textured bulbs of flavor whose sweetness is offset by a creamy horseradish sauce, their softness emphasized by slices of raw golden beets.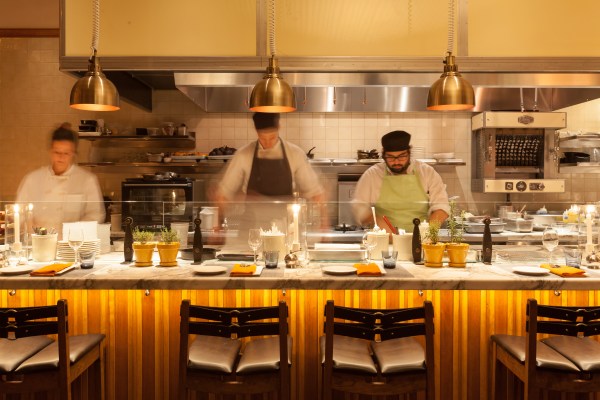 In dish after dish, what one might call the supporting cast becomes title stars, gently reordering one's constellations. Those beets are the best example, but even in nonvegetarian dishes, such as a steamed black bass tendered with crunchy lentils in a French curry broth, Mr. Fraser misdirects or rather reallocates one's interest. First, there is the color, the black-and-white fish arriving in rich yellow broth inside an auroral blue Dutch oven. Then there is the texture, the silky charms of the fish tied in a bowline by the crunch of the surprisingly assertive lentils, a reminder not to overlook the ensemble cast. And then there's the taste, the drive-by pleasure of well-prepared bass, the comforting creaminess of the broth, the grounding earthiness of the lentils. This isn't a dish, it's an ecosystem.
Again and again, Mr. Fraser's small touches uplift his menu. He never manhandles his vegetables or shoves them into the spotlight. He just listens to them—the cucumber-basil water of the raw tuna, the fricassee mushrooms and tender-crunchy chayote forming a nest into which a farm egg is lovingly placed, even the translucent film of cabbage melted onto baked oysters like Saran wrap. Each ennobles their dish.
Of course, he's a chef in New York City and knows his way around the meat department too. The short rib, the best thing on the menu that once had a face, is braised slow and low. It arrives intact but melts away like a shadow with a touch. The lacquered duck breast is crispy, handsome and well made. And Mr. Fraser's tender and moist lamb loin, served with an ornate spinach phylo pie, should be the template for the Bocuse d'Or.
Even at its most complex and hands-on, Mr. Fraser's dishes feel gentle. His food isn't avant-garde. It's not about pushing envelopes or anything else. He doesn't go hard, and he doesn't go big. His premise is restraint—power need not be abrupt, aggressive or malign. That's pretty hopeful and hard to argue with when the menu is so accomplished. So look east too at dinner time, when the sun has disappeared over the Hudson, and go then gently into the night towards Narcissa.
---
What the Stars Mean:
★★★★★  Philosophy. Execution. Ambiance. Deliciousness. These powers combined form five stars.
★★★★  Largely successful with a few forgivable flaws but, yeah, generally awesome.
★★★  A valiant effort, though shortcomings consign it to mediocrity.
★★  Still not on the side of the angels but not, you know, the worst.
★  Pretty terrible but a glint of goodness.
(No stars)  An abomination.