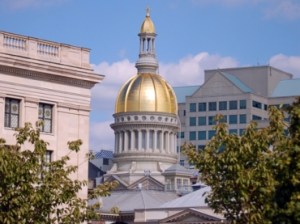 New Jersey lobbying expenditures climbed over $60 million in 2013, according to the latest state Election Law Enforcement Commission report issued Thursday.
Lobbying expenditures rose more than $2.2 million over 2012, representing a 3.8 percent increase, according to the report. The spike is likely the result of several controversial bills lawmakers considered in 2013, said Jeff Brindle, ELEC's executive director.
"The primary purpose of lobbying is to represent the views of the wide range of interest groups that have a stake in our democracy," he said in a statement. "Lobbying helps crystallize issues for our elected officials and the public, and helps decision-makers weigh the pros and cons of legislative action or inaction."
A minimum wage increase, a hospital tax, background checks for gun purchases and expansion of the state's Medicaid program to cover more uninsured residents were among the proposals to pass through the Statehouse in 2013.
According to the report, hospitals topped the special interest spending list at $4.5 million in 2013. Their spending jumped nearly 25 percent over the previous year.
Unions spent nearly $4.4 million, insurance groups spent nearly $3.7 million and energy groups were next in line spending more than $3.4 million, according to the report.
The New Jersey Education Association topped the spending chart among the specific organizations after the union put more than $3.3 million into lobbying. Conservative group Americans for Prosperity came in second on the specific organization spending at $951,000.
Wolff Samson Public Affairs, the firm of embattled Port Authority Chairman David Samson, was paid $1,067,029, according to ELEC.