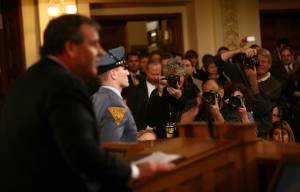 SOUTH RIVER – It appears members of the media weren't the only people at Gov. Chris Christie's town hall ready to document the appearance of any protesters crashing the event.
When at least a half dozen protesters began disrupting Christie's South River event a plainclothes individual who later identified himself as a member of the New Jersey State Police was spotted snapping pictures of the protesters.
The individual didn't identify himself by name, but said he was a member of the State Police after he was asked if he was with either the local police agency or State Police.
The man snapped pictures of the protesters as they stood up and shouted at the governor and also took pictures of the hecklers as they walked past him on their way out of the event.
A Christie spokesman, Kevin Roberts, in attendance at the town hall referred security inquires to the State Police.
"I have no idea what their protocol is," Roberts said.
A police spokesman did not immediately respond to an email for comment about State Police policy on photographing protesters.
The governor's office recently indicated town hall attendees could expect additional police presence.
At least a dozen protesters were led out of the event by police after disrupting the event and chanting "New Jersey deserves better."
The protesters were calling on Christie to force the resignation of Port Authority Chairman David Samson.
Christie attributed the protesters as being recruited by the union Communication Workers of America.