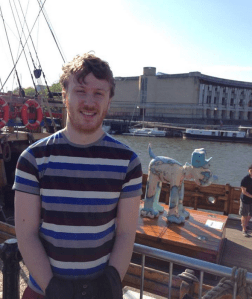 A UK man is currently texting the entire works of Shakespeare to a fraudulent online vendor who refused to send him the PS3 he'd purchased. Ugh — how are British people so classy, even when they're getting revenge on each other?
It all started when 24-year-old Edd Joseph paid £80 for a PS3 on Gumtree, and the vendor never delivered it to him, the Telegraph reports.
Feeling really helpless, Mr. Joseph started brainstorming ways he could get back at the person who'd ripped him off. 
"My first thought was that I could try and pretend I had found out where he lived but it was all a bit of a cliche and it wasn't going to worry him really," Mr. Joseph told the Telegraph. "Then it just occurred to me you can copy and paste things from the internet and into a text message. It got me thinking, 'what can I sent [sic] to him' which turned to 'what is a really long book', which ended with me sending him Macbeth."
Macbeth soon led to Hamlet, Othello and 19 other plays sent via text message. Mr. Joseph simply copies and pastes the plays into his phone's text message field, and sends them off to his scammer. When they reach the scammer's phone, they presumably come through in 160-character segments — meaning the 22 plays Mr. Joseph has sent were broken up into a very irritating 17,424 text messages. Basically, the fraudster's phone hasn't stopped buzzing for the past week.
Mr. Joseph will reportedly send Shakespeare's remaining 15 works over the next few days. 
The nasty vendor has apparently delivered a tempest, if you will, of "abusive" messages and phone calls to Mr. Joseph in response to the onslaught of Shakespearean verse, but Mr. Joseph is being really adorable about the whole thing.
"I'm going to keep doing it. If nothing else I'm sharing a little bit of culture with someone who probably doesn't have much experience of it," he said. "I'm not a literary student, and I'm not an avid fan of Shakespeare but I've got a new appreciation you could say – especially for the long ones."
All's well that ends well, we suppose.