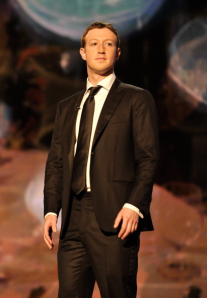 Mark Zuckerberg, Elon Musk and Ashton Kutcher — a veritable tech trifecta — have quietly come together and invested $40 million in a "secretive artificial-intelligence company," the Wall Street Journal reports. 
The company is called Vicarious FPC, and its goal is to create a computer program that functions like the neocortex in a human brain.
"Vicarious is developing machine learning software based on the computational principles of the human brain," their site says. "Our first technology is a visual perception system that interprets the contents of photographs and videos in a manner similar to humans." 
The trio of celeb investors is being a little shady, if you ask us, about their interest in Vicarious. Neither Mr. Musk nor Mr. Kutcher would give the WSJ a comment, and a Facebook spokesperson simply indicated that Mr. Zuckerberg's investment is, in the WSJ's words, "a personal one and does not reflect Facebook's interest in using Vicarious software."
The Facebook comment is a little surprising — it seems like the social network would be interested in the kind of technology Vicarious is working on. As the WSJ notes, Facebook is already using artificial intelligence to do that creepy thing where it recognizes your friends' faces in photos, and they also recently hired Yann LeCun to direct their new artificial intelligence research lab. Could an acquisition be in the company's future?
And how about Mr. Musk and Mr. Kutcher? Could a self-sufficient hyperloop or… er… some really smart Lenovo tablets be in the works? Who knows!
Whatever the reason for the mysterious $40 million investment — marking the second major funding round for Vicarious, by the way — the WSJ notes it might reflect the tech community's growing interest in artificial intelligence. Google, after all, shelled out $400 million earlier this year for artificial intelligence firm DeepMinds.
We're fine if, one day, computers end up smarter than humans. They'd just better not be funnier than us on Twitter.