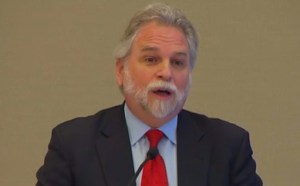 An internal review by the governor's office into the George Washington Bridge lane closure controversy has "vindicated" Gov. Chris Christie, the attorney behind the report said Thursday.
Randy Mastro, of Gibson, Dunn & Crutcher, told reporters David Wildstein and Bridget Kelly were the prime culprits in the lane closures and said New Jersey's governor knew nothing about the events.
"There is not a shred – a shred – of hard evidence that the governor did anything other than what he's publically said," Mastro said.
"We will be judged at the end of the day by whether we got this right," he said, adding later during the news conference "this is a vindication of Gov. Christie because we found what he had been saying" all along was true.
Mastro held a New York City news conference shortly after the firm released the internal report into the so-called Bridgegate scandal.
The former federal prosecutor emphasized Wildstein and Kelly's role in the lane closures.
"It was his idea. He was the driving force behind it," Mastro said of Wildstein.
"We don't know why [Kelly] signed off. We don't know why yet he targeted Fort Lee and Mayor Sokolich," he said. "But we can tell from the nature of the communications that there was some ulterior motive."
Earlier in the news conference, Mastro ago put the sole focus of the lane closures on Wildstein.
"David Wildstein is the person who originated this idea and orchestrated it," Mastro said.
(Wildstein is a former editor of PolitickerNJ.)