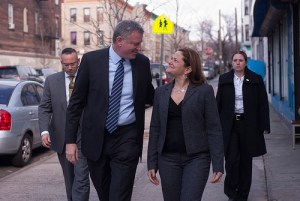 While El Diario La Prensa, the venerable 101-year-old Spanish-language newspaper, has reportedly grappled with shrinking circulation and internal strife, the self-proclaimed "champion of the Hispanics" is having a small renaissance at City Hall.
At least three alumni of the newspaper have signed up to work for either Mayor Bill de Blasio or Council Speaker Melissa Mark-Viverito, demonstrating the pair's intense desire to reach out to Spanish-speaking New Yorkers.
Mr. de Blasio's El Diario alumni include Maibe Ponet, his new deputy press secretary who was an El Diario opinion editor, and Roberto Perez, a former political columnist who is now based in the mayor's community affairs unit. Ms. Mark-Viverito hired Erica Gonzalez, a former executive editor and opinion page editor at El Diario and a longtime ally, to serve as a senior adviser. Rossana Rosado, an El Diario editor and publisher for almost two decades, was also named the co-chair of Ms. Mark-Viverito's transition committee.
The three administrative staffers all have prior governmental experience and their new gigs aren't necessarily surprising. Both Mr. de Blasio and Ms. Mark-Viverito, who have drawn broad support from minority communities, have espoused a desire to tap into New York's ethnic media market. Courting Spanish-language media in particular can reap immediate and long-term dividends, observers say.

"She will be particularly charged with making sure that our administration's message reaches the many many, well over a million Spanish speakers, primary language speakers in our city," Mr. de Blasio said at a January press conference introducing Ms. Ponet. (Ms. Ponet wasn't immediately available to be interviewed for this article; Mr. Perez declined to comment.)
"As she has said throughout her Speakership, Melissa is looking to build a talented and effective team and Erica's years of experience as a journalist and in government will be an valuable asset to the Speakers Office and the City Council," Ms. Mark-Viverito's spokesman, Eric Koch, told the Observer.
Veteran observers believe the hires represent shrewd political choices.
"It's just smart politics for the speaker and mayor to be trying to find out ways to appeal to what will be a growing constituency, heretofore disposed to support them and their agendas," said David Birdsell, the dean of Baruch College's School of Public Affairs. "These are clearly efforts to sculpt an audience that will never see the light of day in the New York Times."
This is a departure, Mr. Birdsell argued, from ex-Mayor Michael Bloomberg, who assiduously practiced his Spanish but did not aggressively target ethnic media in the same manner. Stu Loeser, a former Bloomberg spokesman, said he couldn't recall Mr. Bloomberg poaching El Diario staffers for City Hall positions.
Although Mr. de Blasio's relationship with the City Hall press corps and right-leaning editorial boards can be chilly, the inverse appears true for Spanish-language media, particularly in the case of Ms. Mark-Viverito. El Diario backed Ms. Mark-Viverito's bid for speaker, which was heavily touted as a trailblazing moment for Latinos in the city.
At a panel discussion earlier this month, Ms. Mark-Viverito declared that mainstream media was "losing weight" in the city because of changing demographics, according to a reporter in attendance. Citing the fact that Mr. de Blasio won last year's Democratic primary without the endorsements of any of the major English-language daily newspapers, Ms. Mark-Viverito claimed that alternative language newspapers were ascendant and made sure to name-check El Diario. 
But some media watchers have also privately questioned whether the newspaper, in the wake of the latest exodus, will be able to provide objective coverage of Ms. Mark-Viverito and Mr. de Blasio.
"Does El Diario give them a break because they're ex-colleagues? Is it based on favors they've done in the past or is it the fact that they're talented individuals [that they were hired]?" asked Gerson Borrero, a former El Diario columnist and NY 1 talking head who was recently fired from the embattled newspaper.
Mr. de Blasio, if past statements are any indication, would likely dispute that notion. Of Ms. Ponet, he has said, "Sitting across from her at the editorial board meetings at El Diario—even though she was my former employee and friend—she was tough, she was insightful, and though her intentions were good, she grilled me just as hard as anyone." 
El Diario did not return a request for comment.