In an apparent slip of the tongue, Mayor Bill de Blasio today said he had skipped yesterday's St. Patrick's Day Parade in the Rockaways because it excluded some groups–even though he had marched in the same event last year.
"My approach has been to embrace parades that are inclusive. And that's the standard we're going to hold," he said today during the St. Pat's for All Parade in Sunnyside, Queens, when asked why he'd skipped the event Saturday, drawing criticism from some in the Sandy-ravaged neighborhood.
A spokesman for the mayor later clarified that Mr. de Blasio had actually skipped Saturday's parade–officially known as the annual Queens County St. Patrick's Day Parade–because of scheduling conflicts. "The mayor did not attend the Rockaways parade on Saturday due to scheduling conflicts. He didn't attend the Staten Island parade on Sunday because its excludes groups," the spokesman said via email.
The Rockaways parade is not widely known to exclude any groups and Anthony Weiner, who used to represent the Rockaway Peninsula in Congress, took to Twitter to argue it's historically been inclusive. A representative did not immediately respond to questions about the parade's official policy.
The no-show yesterday drew criticism from some, including the local The Wave newspaper. "Rockaway St. Pat's Parade — NO PUBLIC EVENTS for Bill de Blasio. i.e. guess he's not coming. Guy's gotta learn to have fun. #wontbemissed," they wrote on Twitter.
The founder of IrishCentral described the no-show as Mr. de Blasio's "latest slight on the Irish."
"No doubt the mayor had other priorities on a cold and brisk Saturday, such as warming himself beside a fire maybe. His public schedule showed no event," the founder, Niall O'Dowd, wrote. "Fact is De Blasio to date has been quite bloody minded towards the Irish community."
Mr. de Blasio participated in the Rockaway's event last year while he was running for mayor, and was reportedly booed by parade-goers after one staffer shouted "Mission accomplished. Thanks, Bill de Blasio" through a megaphone, according to the New York Post.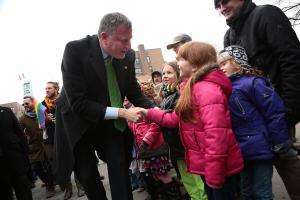 But there were no hints of hostility this afternoon when Mr. de Blasio joined more than a dozen elected officials as well as marching bands, Irish dancers and Irish drag queen Panty Bliss for the annual St. Pat's for All parade along Skillman Avenue. The event aims to be an inclusive alternative to the Fifth Avenue extravaganza, which bars the participation of openly LGBT groups.
Wearing a green tie for the occasion, Mr. de Blasio marched most of the route flanked by fellow officials behind a large banner, rarely interacting with the parade goers lining the route.
"This parade is what New York City is all about. This is a parade that celebrates inclusion, diversity, unity. That is what this city is about. That is what has made this city strong," Mr. de Blasio told marchers before kicking off the event.
He noted how, when the parade started more than a decade ago, many were skeptical that it would last. "A lot of times in life, you have to start something in the direction of progressive values, you have to start a process of change, even when it doesn't look easy. And soon, over time, you find that people take to it," he said. "They understand this is the right way."
Mr. de Blasio, like Council Speaker Melissa Mark-Viverito, is planning to boycott the Fifth Avenue parade this year because of its LGBT policy. But other city officials will be participating, including Police Commissioner Bill Bratton.
"I absolutely respect his decision. And I've said this is something where we have to respect everyone's individuality and their right to make their own decision. And I respect his choice," said Mr. de Blasio, when asked about Mr. Bratton's decision along the route. He also reiterated his stance that police and fire officials should be allowed to march in uniform.
"I've said I respect their right to do that. I think that's a matter of free expression and I respect that," he said.